Girl Nursery Themes - Magical to Earthy
girl nursery themes From fairies to flowers.

It's official...you are going to have a girl.

You are in a whirl of activities from deciding on the baby name to choosing adorable baby clothes (humming softly to yourself). Of course, you want the most beautiful nursery for your precious princess.
Tired of pink? The notion of pink nursery themes for girls is certainly overdone. But there is an element of truth to the theory. Show any little girl an array of dresses and you can be sure she will pick the frilliest, laciest pink one she can find. Perhaps it is a genetic thing, but most girls prefer pastel colors while boys pick harder, bolder colors.


Sweet Jojo Designs 9 Piece Watercolor Shabby Chic
But we are decorating the nursery...remember? Your baby won't begin to appreciate the nursery design until she starts her toddler years. Then what exactly should you concentrate on for the girl nursery themes?
1. Primarily...Think Safety.
Sure, you already know about this. We have been mentioning it on almost all the pages. It is just too important to be left out.
As your baby grows, she will learn to take care of herself, to dust off the bruised knee, to maneuver around sharp edges, to drive carefully (??). But right now...in these early months, she depends completely on you to keep her from harm. It's a BIG responsibility.
Avoid nursery designs that seem unsafe such as long drapes that could smother a baby or lamps with stuck-on beads that could choke her.
Do you have the most chic baby girl nursery in town? Share your story with us.
2. Make YOUR Dreams Come True
We couldn't design our own nurseries when we were babies. That does not mean we did not later envision what those perfect nursery themes would've been for us. You have your dreams.

---
Mickey Mouse 4 pc Nursery Bedding Set
---
This is one time that they CAN come true. Also, this room is your baby's first impression of you. Fill the room with your love, your warmth and your dreams. If the room makes you happy, it WILL make your baby happy too.

Many parents are concerned about having a room that grows with the baby. You do NOT have to sacrifice creative themes and opt for simple pieces. Read this article on inexpensive ideas for kid bedrooms.
3. Stimulating Colors and Patterns.
In today's fast paced life, we want our baby to come into the world knowing her multiplication tables!! There are products out there that claim 'your baby can read'.

---

Pickle & Pumpkin Fitted Crib Sheets (2 Pack)|100% Organic Jersey Cotton
---
You listen to Bach and Beethoven during your pregnancy hoping your child will be the next Grand Master. Well, here is Good News.

Your choice of color and patterns of nursery design ideas can activate her mind and stimulate her senses. Black and white is a classic contrast perfect as nursery themes. Babies respond to bright, clear colors and large basic shapes.
Opt for cool stripes or geometric patterns and bright and vibrant colors.
4. Popular Nursery Themes – Save Time and Money.
You want to re-create that beautiful nursery you saw in a magazine. That is easy. There are popular girl nursery design ideas available online and in stores.
Nursery décor manufacturing companies offer everything you need in just about every theme you can think of. Once you have finalized your theme, you can pick up all items together, saving you time and money!
5. Make That List.
You have chosen your nursery design. Now make a list of the theme oriented items you wish to purchase. Remember not to overdo your chosen theme by putting it everywhere.
(Tip: Try to bring in a few themed items coupled with others in related themes. For example, if you are going with the fairy theme, stick a pair of wings on the wall, perhaps toadstools painted on wall at baby's eye level. A fairy themed comforter with a solid colored sheet in matching colors will complete the look.)
6. Don't want those Popular Nursery Themes?
Perhaps you do not want to go with the popular girl room themes but want one that is unique to your baby. This will take a little more time and effort on your part. You need Inspiration.

---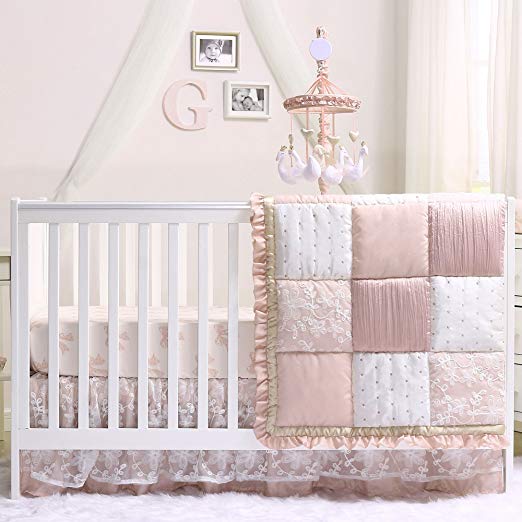 Grace 5 Piece Dusty Pink Crib Bedding Set
---
Look through magazines, online catalogues and stores for girl baby bedding that might catch your attention. The colors on the bedding will give you a starting point.
Turn to Mother Nature.

Don't limit yourself to looking at girls bedding only. Look at nature photographs. The colors will always be in harmony - a setting sun, a beachfront, the Grand Canyon. Pick the vivid colors that blend together so beautifully.



Look around the house.

Gift-wrap paper and gift bags are a great source of color-coordinated inspiration. Some even have interesting designs on them that you could replicate in the baby room.



Think of your own interests.

What do you enjoy? Music? Sports? Books? You can turn these into the nursery themes of your choice. Remember the bottom line: "If the room makes you happy, it will make your baby happy too."



Popular Girl Nursery Themes
Princesses - The most popular girl nursery theme can be as personal and unique as you want it to be.


Rapunzel - Of all the Disney Princesses, Rapunzel continues to enchant.


Angels and Fairies - Create the enchanted garden look with these furnitures, fabrics and accessories.


Ballerina - A dainty and elegantly feminine nursery is just a click away.


Butterflies - Colorful and dynamic, butterflies provide a perfect backdrop for your little girl.


Flowers - Flowers of different colors and designs are always in season, no matter how old your little girl gets.


Ladybugs


Mermaids - Mermaids are the perfect mix of beauty and fantasy. Find your inspiration here.
Return from Girl Nursery Themes to Decor Mom's Home Page
Share Your Journey With Us.
Most Chic Baby Girl Nursery in Town?
You have just completed decorating your baby girl nursery. Kudos to you.

Why not click some chic pictures? Capture the room's special 'Magazine Moment', post it here, invite friends and family from near and far to compliment you and treasure this moment forever!

Return from Girl Nursery Themes to Decor Mom's Home Page
---
Did you enjoy this article? Was it informative? Tell us in a comment below.
---
Want More Decor?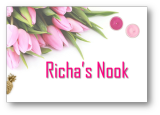 You can sign up for my free bi-monthly e-zine, Richa's Nook.
This is a great resource of ideas, information and a casual fun read to help you relax and unwind.
---