Hey mommy-to-be, get your Nursery ready before baby arrives.  

Click here

.                                                                   

7 Dorm Room Decor Ideas That Help You Stand Out. This quick list is all you need.
Your dorm room looks exactly like any other in the entire building. It has the exact same furniture that everyone else does. So how do you make it uniquely yours? The dorm room decor is your simple answer.
Last updated: April 14, 2021
(We have included third party products with the goal to help you navigate the web easily so you can focus on what matters to you. Purchases made through links on this page may earn us a commission.)
If you are a decorating buff, one look at your drab dorm room and you will be itching to start. Right?

Decorating dorm rooms means more than simply adding dorm room furniture, bedding, college posters and other dorm supplies.
The style of your college dorm room is a reflection of your individual personality. 
---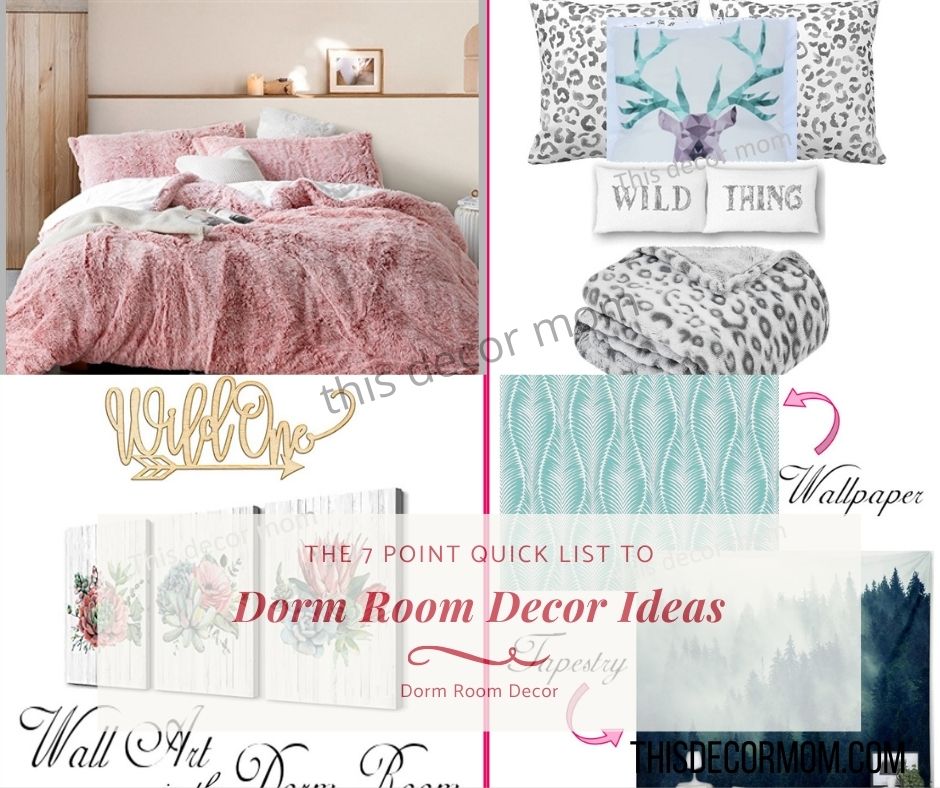 Sign up for Amazon Prime Student and discover a world of discounts and bonuses.
Looking for something specific? Check out our individual articles on each.
---
When every dorm room looks just like the other and everyone has the same furniture, it can be intimidating to figure out how you can put your personal stamp on it. You only need to focus on these items - the little knick-knacks can follow later.
To help you better understand how dorm room decor works, I will create a cohesive look by pulling different items together.
Ready? Set! Dive In To The Quick List Of Dorm Room Decor

1. Dorm Room Bedding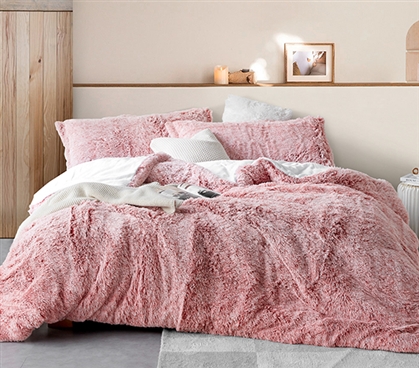 ARE YOU KIDDING - COMA INDUCER® TWIN XL COMFORTER - FROSTED ADOBE BRICK
The bed is the biggest piece of furniture in your dorm room. So naturally, the bedding on it will make the biggest statement about you. 
There are many directions you could take with the dorm room bedding and we have explored it more deeply in a separate article.
For the sake of this example, let's say you go with this super soft and wildly plush pink bedding.
Do you have a theme or color scheme in mind for your dorm room? Look for the dorm bedding that most inspires you and design your room around it.
I am currently working on some great freebies and a host of other resources to help you get all your dorm room decorating questions answered right here. If you would like to stay tuned for when they come up for grabs, feel free to sign up to my free e-zine, Richa's Nook. 
You will have access to
50 Cool Ways to Transform Your Dorm Room;
The best dorm room 

checklist 

ever; 
My favorite simple and easy d-i-y tutorials for Dorm Decor from all over the web;
10 amazing Dorm Room 

Printable

 Wall Art you will not find anywhere else;
My personal touch of Dorm Room Creative Collections (along with some of the best resources available today)
A Facebook group for you to ask questions, offer ideas, rave about your dorm room, and more.
There will be a special offer in the e-zine that I will not be offering once my e-catalog becomes public.
2. Accessorize the Bedding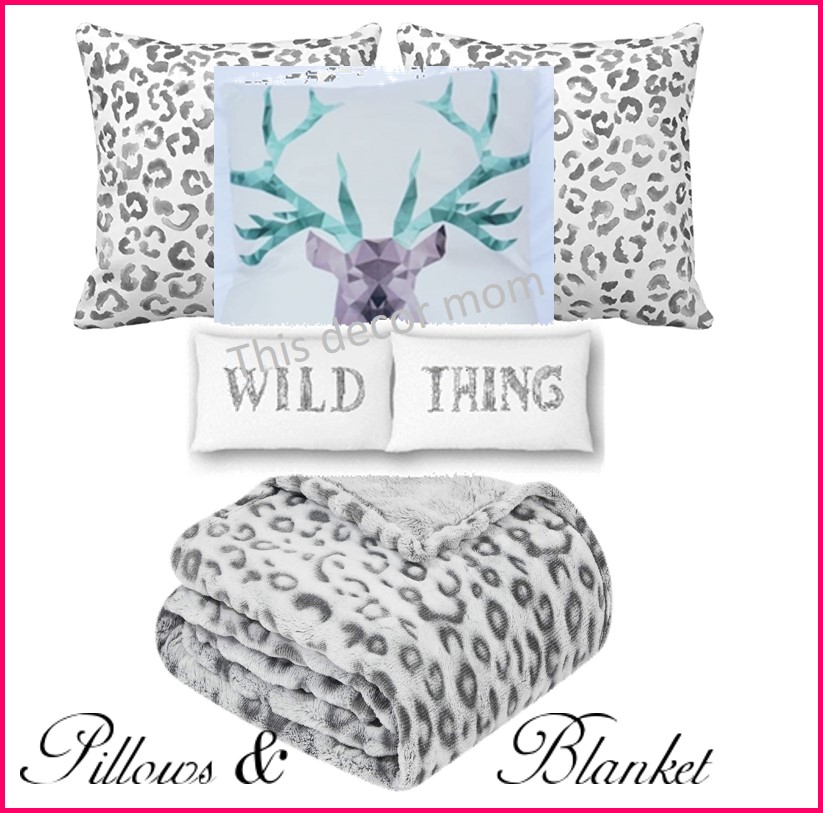 Choosing the right bedding is just the beginning. You want to accessorize it further with some fun pillows - this is where you can bring in your favorite colors/sayings/patterns/textures. There is a world of themes and colors to choose from.
A blanket at the end of the bed give it a more resort-like look and additional warmth on a cold night.
I decided to go with a wild theme - the soft grey compliments the pink bedding perfectly. I love the extra bit of color that the deer antlers provide. It allows me to add an extra color to break up the pink and grey.
---
3. The Rug Carries the Color and a Warm Floor
An area rug is my biggest challenge. Rugs come in different colors and textures, but they are a lot like art - a very personal choice of what appeals to one. When searching for the right rugs for my home, I think I exhausted every store and online site before I found one that I could be happy with.
In a dorm room, the rug plays a very important role. It adds warmth to a cold floor and carries the color of the bedding beyond the bed.
I love the rug I have found for this dorm room I am putting together for you. It brings together the pink, the grey and even the minty green. The pattern has just enough jazz without overpowering the dorm room decor. I love it!
---
4. Removable Wallpaper or Tapestry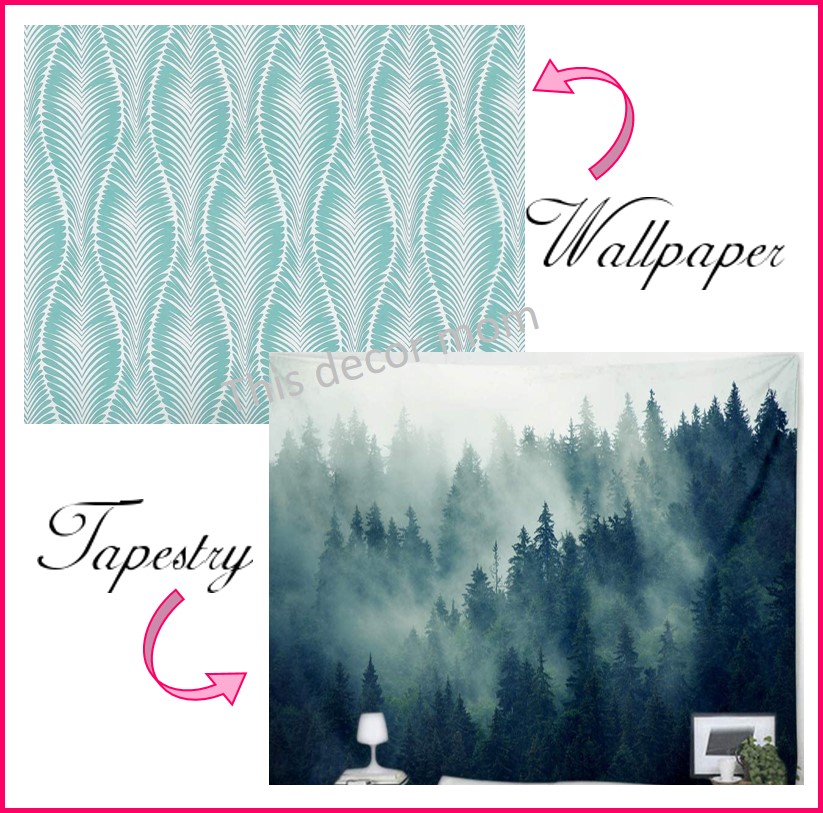 It is no secret that dorm room walls are bare, boring and quite colorless. The fastest way to change that without painting the walls, is to add a removable wallpaper or hang a large tapestry. Before you buy either of them, check with the college about what is and what is not allowed.
Always remember to use removable/repositionable wallpaper or if hanging a tapestry, use hooks and tapes that do not damage the dorm walls.
I am a fan of wallpaper, so that is what I would use here. And against the pink bedding, the green of the walls will look so striking, don't you agree?!
---
5. Choose the wall art carefully.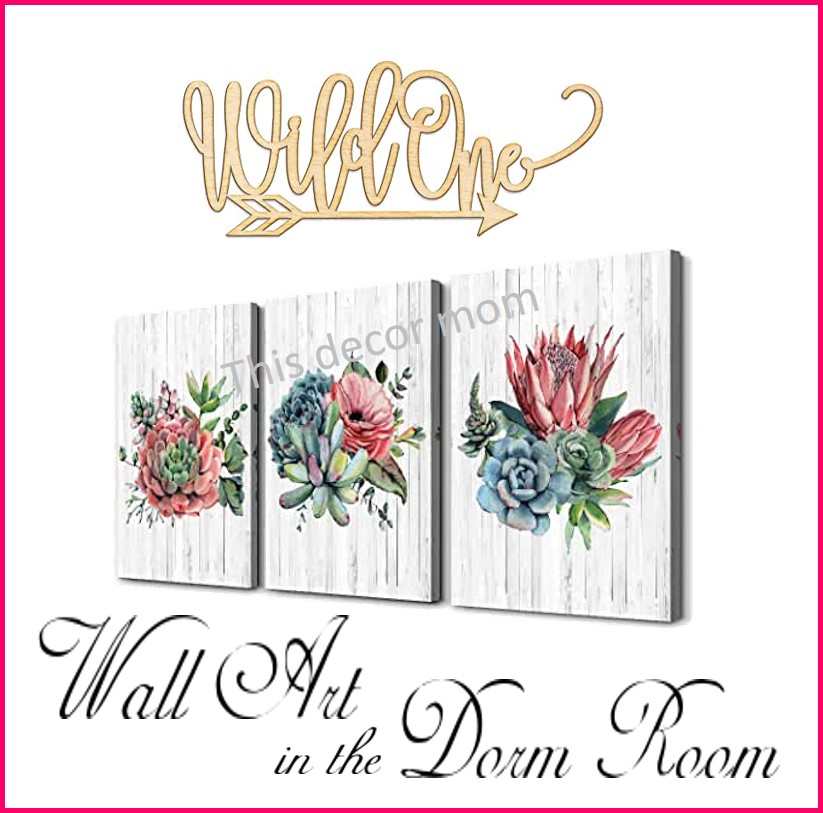 There is such a large selection of wall art that it can be hard to nail down the ones you want to go with. You can put up regular college posters; wood signs, tin signs, word art or paintings - it's all about you.
Putting them in frames makes it easy to change them out when you tire or if you want to show another scheme.
This would be a great time to add a monogram of your initials, and of course, photos of family and friends.
---
6. Dressing Up the Windows
Remember to dress up your windows. You probably have one tiny window in the dorm room. You don't have to stick to the small size though. If you add wide drapes covering a larger wall space, it gives the idea of a larger window.
Sewing or ironing on tassels, pompoms or ribbon to the drapes will instantly add a wow factor to the store bought drapes.
I have carried the pink of the bedding to the window but softened the solid look with the white tulle in front of it.
---
7. Add a Headboard
A headboard instantly gives the dorm room decor an uplift. It makes the room look complete. And there are again many options to choose from. Or if you are more handsy, you could even d-i-y your very own headboard.
---
Complete the dorm room decor with simple pieces around the room that tie in the colors of the room. A vase with pink flowers and green ferns; a lamp with pink and gold; a paper lantern; a trinket tray...there are so many ways to bring harmony to the entire look. Here is what the room would look like: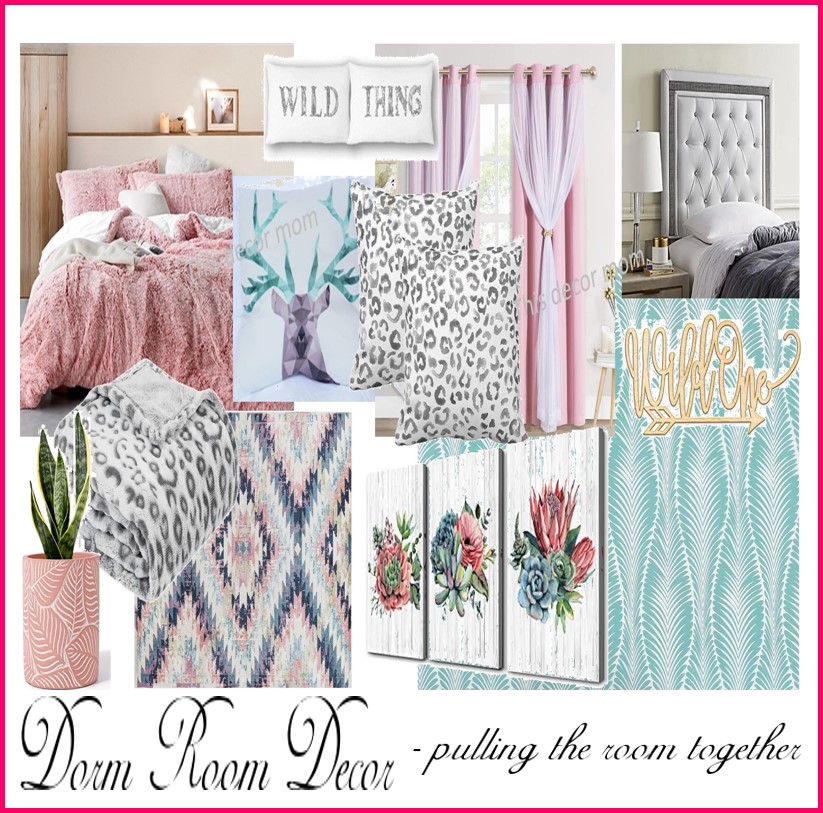 I hope this gives you insight on how you can pull any look together with just these 7 items on your list. This Quick list of 7 Dorm Room Decor ideas is all you need to make the dorm room your personal oasis and give it your unique stamp.
Now go ahead and get shopping!
---
Return from Dorm Room Decor to Decor Mom's Home Page
---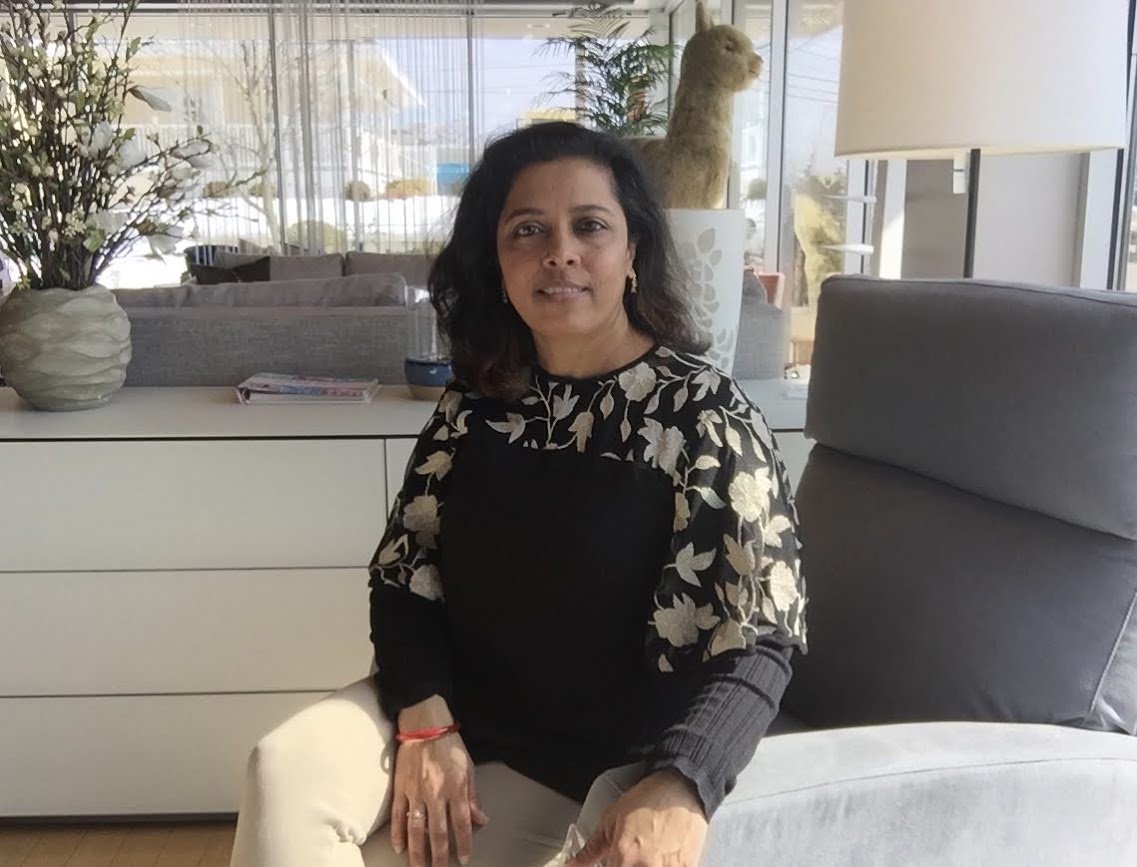 Hi, I am Richa and am super excited to see you here. I enjoy interior designing so much I went back to study it. Now armed with knowledge, passion and a vision to make 'happy homes', I hope this site will give you all the tools you need to make your kid's room happy too.   Read More...

---