Hey mommy-to-be, get your Nursery ready before baby arrives.  

Click here

.                                                                   
Paint Colors
Unique Wall Painting Ideas
Fresh Paint Colors to spruce up these wall painting ideas

(We have included third party products with the goal to help you navigate the web easily so you can focus on what matters to you. Purchases made through links on this page may earn us a commission.)
The all-important time is here! Time to choose the colors for the wall and ceiling of that nursery, kids room or teen room.
A fresh coat of wall paint can instantly transform the kids' rooms. It's also a color that your child has to live with for a long, long time…and so do you. Are you ready to start painting kids rooms??
Hey, how hard can that be? 
Step 1. Ask my kid about her color preferences. She says she wants green wall colors. 
Step 2. Go to the nearest store, pick up some green paint. 
Step 3. Get home and paint the walls. There, it's done! Time to move the furniture in.
Hang on. Let's rewind and start again a little slower this time.
Step 1. "I ask my kid about her color preferences." She says she likes green...and pink and some lilac too. (And what if your other kid, who shares this room, wants reds and orange instead?). Okay, for this hypothesis, let us assume both kids do agree on green wall painting ideas.
Step 2. "I go to the nearest store, pick up some green paint."Which green paint? There are 'verdant', 'festival green', 'shamrock', 'country squire', 'garden grove'...and many more (and this is from just one brand!). Latex paint or Oil/Alkyd based paint? Did you decide on the wall paint finish – flat/satin/semi-gloss? How about a faux finish – color wash, sponging, combing…? Do you need primer?
Step 3. "I get home and paint the walls." Planning to do-it-yourself? Do you have the right tools? Want to paint the regular way or color in stripes or lower/upper halves in different colors? What about ceiling paint?
Okay, so now you kinda get the picture. The paint industry has been revolutionized while you were busy growing up.
This is perhaps the single most important part of decorating your kid's room. As we have seen in the example above, you do need to ask your child his color preferences.

Keep in mind, there could be more than one color he likes. One way of deciding the overall color is to look carefully at the comforter. Pick the palest color in the mix, show it to your kid. Does he approve?
If you are going with a theme, choose the palest color for it. For example, a frog theme could have light blue or pale green walls.
Does your son crave Spiderman? The reds and blues are out of the question. How about a sky blue with a mural of Spiderman swinging above. Make it more fun by adding a city's skyline at the bottom of the one wall.
For infants, keep the colors a warm and soothing pastel palette.
Tip: Some companies now offer an array of baby nursery room colors. Choose the one that is nearest your chosen theme.
For teens, a good idea would be to peek into their closet. Find the clothes he/she most prefer and pick up 2 colors from them. One should be a pale color that will cover the most walls. The other a bolder look for the accents.
Tip: Remember that dark colors can make a room look smaller and foreboding, soft colors warm the walls and make the room look larger and more airy.
2. Develop Your Room Scheme or Theme First.

It is easier to match the wall paint to the furniture and furnishings of the room rather than the other way round. Check out your 'dream folder'.
Finalize the bedding, rugs and theme before you decide on the paint colors. Collect paint chips and set them against the fabric or rug to see if they work well together. Visit your local paint retailer. They usually provide small sample jars. Paint a part of the wall or paint a poster board and hang in the room.
3. Patterns and Fun Designs.

You do not have to paint a room entirely in one boring color. Add some fizz with these wall painting ideas.
Paint stripes (horizontal stripes make a room look wider; vertical stripes make the ceiling look higher.)
Choose two complementary colors or choose from a monochromatic mix. Don't want stripes? Go for asymmetrical patterns. How about adding some theme oriented characters on the wall?
Buy readymade stencils or make your own design on a stencil to create a unique room or nursery. Involve your kid in this project and watch his self-esteem grow.

Tips: Infants cannot distinguish colors, but they can distinguish contrast. Stencil different shapes in a multitude of paint colors – it will keep your baby occupied for hours.
4. Paint Colors on the Ceiling.

Plain white ceilings are out of fashion! Include the ceiling paint into the décor. Painting fun designs on the ceiling is a great way to stimulate little infants as they spend most of their time staring at it.

For older kids too, a fresh coat of paint on the ceiling brings the whole room together.
Tip: For younger children, coloring the ceiling and the top 1/4th of the walls the same paint color will make the room seem smaller and more in proportion with their tiny frames.

Another Tip: Check out Decorative Ceiling Tiles. The gorgeous designs, patterns and colors are sure to be a hit with the older kids!
Painting kids rooms a new shade is an easy and inexpensive way to brighten the kids' room decor. The new techniques and creative ways of using that same can of interior paint colors now do wonders to create an enchantingly unique look.
5. Consider the Height of Your Child.

When you paint a room or add the design, keep in mind the height of your child. For infants, put designs on the ceiling or at the low level where he can see it while sitting on the rug or crawling across the room. For toddlers and tweens, the accents or divisions in color should be at mid-level of the wall. The teens can have a higher accent color or division.

Tip: The center of any design you paint should be about six inches above your child's eye level to make the greatest impact.
6. One Room - Two Kids - Many Favorite Colors.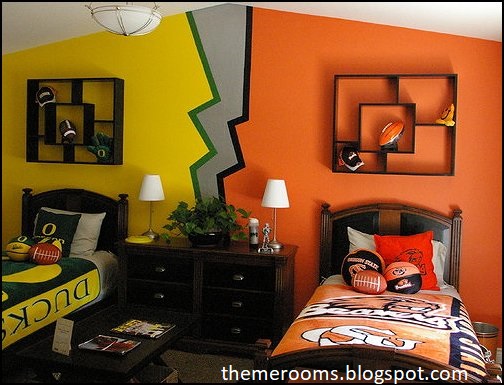 Even while sharing, the bedroom color ideas are an essential element. You could localize favorite colors in areas closest to each.
Choosing two different paint colors for the walls will visually create territories within the room for each individual. If their favorite colors are uncomplimentary, you can find lighter shades that might not clash with each other.
Talk to your kids and see if you can work out a compromise. If not, find a neutral color for the walls…and indulge their color preferences in other ways around the room - accent pillows, nightstands etc. Use the color wheel to figure out complimentary color schemes.
Tip: Do not ignore the color preferences simply because they are too different. It is important for your children to feel that their wishes and inputs are being fulfilled or at least considered.
7. Eco-Friendly Walls.

We are back on our favorite topic! There are many wall paint options today that make your walls more eco-friendly. This promotes a healthy environment at home (less toxins in the air) and ultimately helps the environment around the world. We are talking Non VOC or low VOC paints, milk paints, recycled paints...

More about Wall Colors:
Practical Tips – Painting kids rooms is a long term project. Get it right the first time. Learn the practical tips before buying paint.

Types of Paints - There are many different types of paints available today. Find out the ones that will work best for you.
Baby Nursery Ideas – The colors in the baby nursery have a dual role. They must make the room calm and serene for the infant to sleep comfortably. They must also be able to stimulate his senses when he is awake.
Toddler Room Ideas – Toddlers love themes and always have favorite characters. Incorporate them into the paint colors such that you need not repaint to keep up with the changing favorites.

Tween Room Ideas – Today the kids seem to be growing up faster. Tweens are much affected by their peers and want the most happening room. Get the wall color that they can proudly show off.

Teen Room Ideas – Teens are still affected by peers, but they also want to stamp their own identity on their room. Learn how to maneuver around their preferences to get the room they will love and you will smile about.

Eco-Friendly Paints – Learn about the different types of eco-friendly paints available in the market. We will also include information on where you can get some.
Return from Paint Colors to Decorating Ideas Home Page
---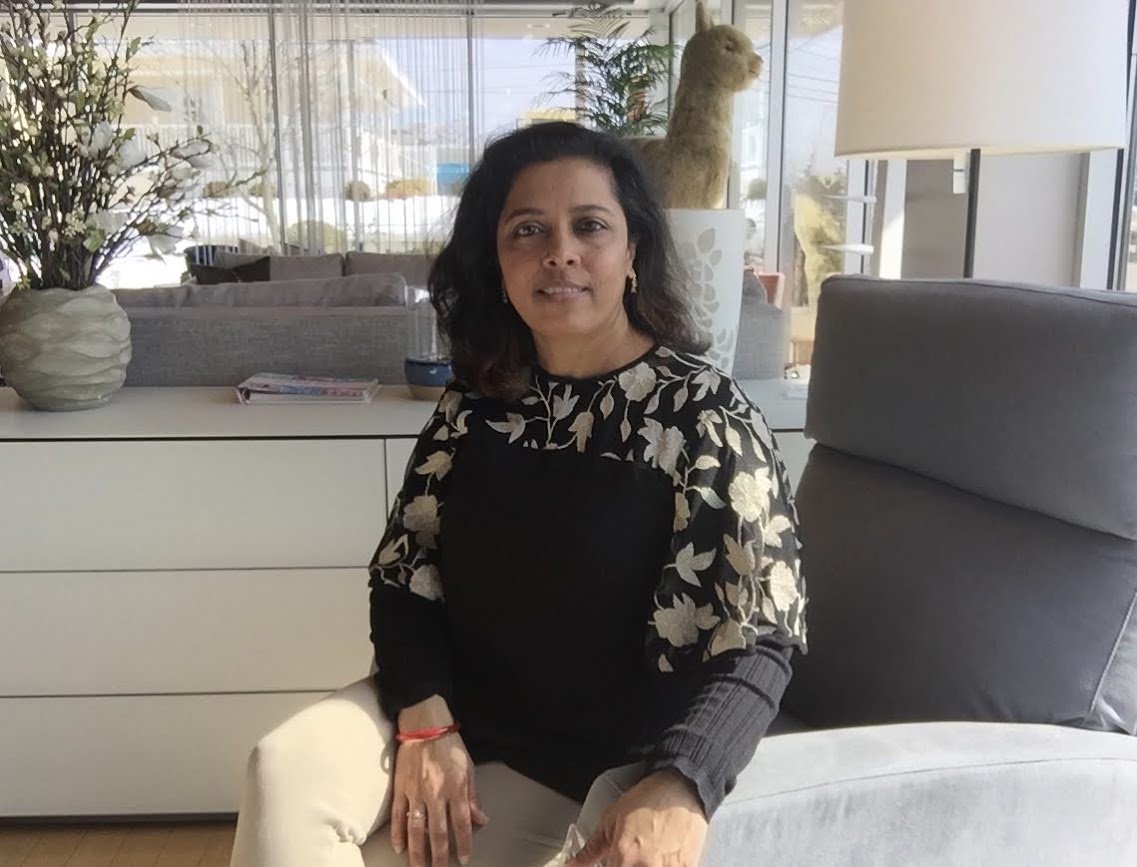 Hi, I am Richa and am super excited to see you here. I enjoy interior designing so much I went back to study it. Now armed with knowledge, passion and a vision to make 'happy homes', I hope this site will give you all the tools you need to make your kid's room happy too.   Read More...

---