Nursery Ideas: 

Rooms that Soothe and Stimulate
just-right

 nursery ideas that soothe and stimulate 

---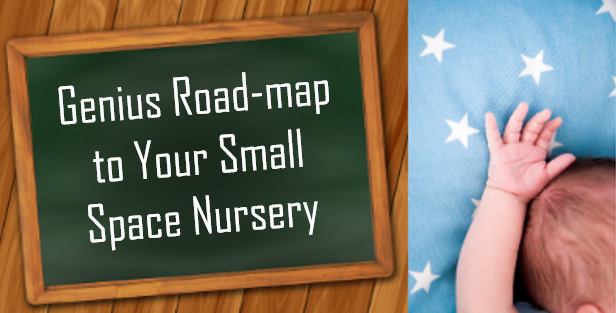 Sign Up For Your Gorgeous Baby Nursery
The 7-days-and-done FREE mini course that helps you find, design and decorate your Small Space Nursery is here!!
I am so excited to join you on a thrilling journey to a gorgeous baby nursery. Together we will design an amazing space for you and your baby to create many memorable moments in.
...the first 20 parents to sign up will be eligible to enter for a lucky draw. You could win a beautiful wooden name personalized for your baby!
---
Expecting a baby? Congratulations!

Whether you are a first – time parent or many times over, the arrival of your new bundle of joy is always an exciting event…at least until he actually arrives!
Look on the bright side…the loads of dirty diapers and sleepless nights WILL phase out some day, but the thrill of seeing this tiny helpless baby grow into a helpful responsible adult will never end. The memories of today's precious moments will linger on.
Besides, this is the only time that you can talk to him without him talking back to you. So make the most of it!!
As a parent, you want the best for your baby. His nursery is the first room that he will begin to recognize and to explore (visually at first). It is his room and you would want to give it that stamp.
Decorating a nursery is probably one of the most difficult tasks. It has to be the safe haven where he can roll, crawl, walk, run, laugh, cry, scream, jump, scribble, write, color, create, imagine, play and just be himself.
---

Sweet Jojo Designs Fitted Crib Sheet for Black and White Fox Collection
---
1. More than a room.
You want the baby's room to soothe him into deep slumber. You also want it to stimulate his senses when he is awake and aware. However, there is an even more important element in decorating his nursery. 
You want the nursery to convey your warmth and love to your baby. The just-right nursery is an idea that reflects YOUR personality and lifestyle, instead of something from a magazine.

2. Know your situation.
Every baby nursery idea needs a different approach depending on your particular situation. Maybe you…
…are designing a new nursery? Have you just moved into your own home to meet the needs of a growing family?
…had a baby girl before and now need to redecorate for a baby boy (or vice versa)?
…need to convert your home office into a nursery?
…have to expand the existing nursery to accommodate twins?
Hey, did you check out our page on the Basic Rules of decorating? Those are very important ideas for decorating rooms for kids of all ages. Read them before we go on. (I'll wait for you here)
Read them? Noted them down? Great. Let's move on.
3. Fit in all the details.
To get the baby's nursery just-right, we need to approach the room from every angle. The final effect of your chosen nursery idea will result from a combination of big and small details, from the color of wall paint to the decorative pillows. Think it out in detail before you buy anything.

4. Cover all the safety issues.
Your little one is also totally dependent on you for his protection. Covering electrical points and removing the wall-to-wall carpeting are just the tip of the ice-berg. Once he starts to crawl and explore his surroundings, the safety issues escalate.
From specialized baby furniture to baby room rugs, there are a number of products in the market that provide protection while aesthetically blending with your baby room decor theme.
5. Go Green to Save the Greens.
The latest trend in nursery decorating, as in all other industries, is to go green. There are a number of companies that provide information and baby products that are environmentally safe and thereby, better for babies.

6. His world is opening up. Be prepared!
Once the just-right nursery idea is born and has taken shape, it is time to turn your attention to the rest of the house. That is right. Your baby is not going to be contained in the confines of the nursery forever. As he grows and starts to crawl, you will find him spending less time in the baby nursery. Check our Safety pages for nursery ideas that blend safety into the overall decor.
You will also want to spend more time with him, even as you continue to do your household chores. Before you bring him out of the nursery and into the rest of the house, you have to get the house ready to receive him. There are hazards all around the house that we do not realize. How do we pre-empt these disasters? Look, touch, explore your house on all fours…see it as your baby would.
Explore this site to get a complete picture of your baby's nursery ideas clear in your mind. We have tried to cover all aspects for decorating that nursery and getting it ready to welcome your little one.
Return from Nursery Ideas to Decor Mom's Home Page
---
Did you enjoy this article? Was it informative? Tell us in a comment below.
---
Want More Decor?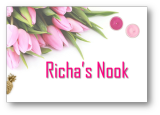 You can sign up for my free bi-monthly e-zine, Richa's Nook.
This is a great resource of ideas, information and a casual fun read to help you relax and unwind.
---