Hey mommy-to-be, get your Nursery ready before baby arrives.  

Click here

.                                                                   
Butterfly Decor - Cheerful and Delicate
Use Butterfly Decor to Bring on the Cheer and a Smile.
(We have included third party products with the goal to help you navigate the web easily so you can focus on what matters to you. Purchases made through links on this page may earn us a commission.)
Have you been checking out butterfly themed kids bedroom ideas or baby room ideas?

Butterfly, butterfly, fluttering by. Ethereal, beautiful, delicate and colorful...don't they sound the perfect description for your baby's nursery or girl's bedroom?
It's an ever popular theme with many parents and thereby with many manufacturers.

Check out our Butterfly Inspiration Board!
---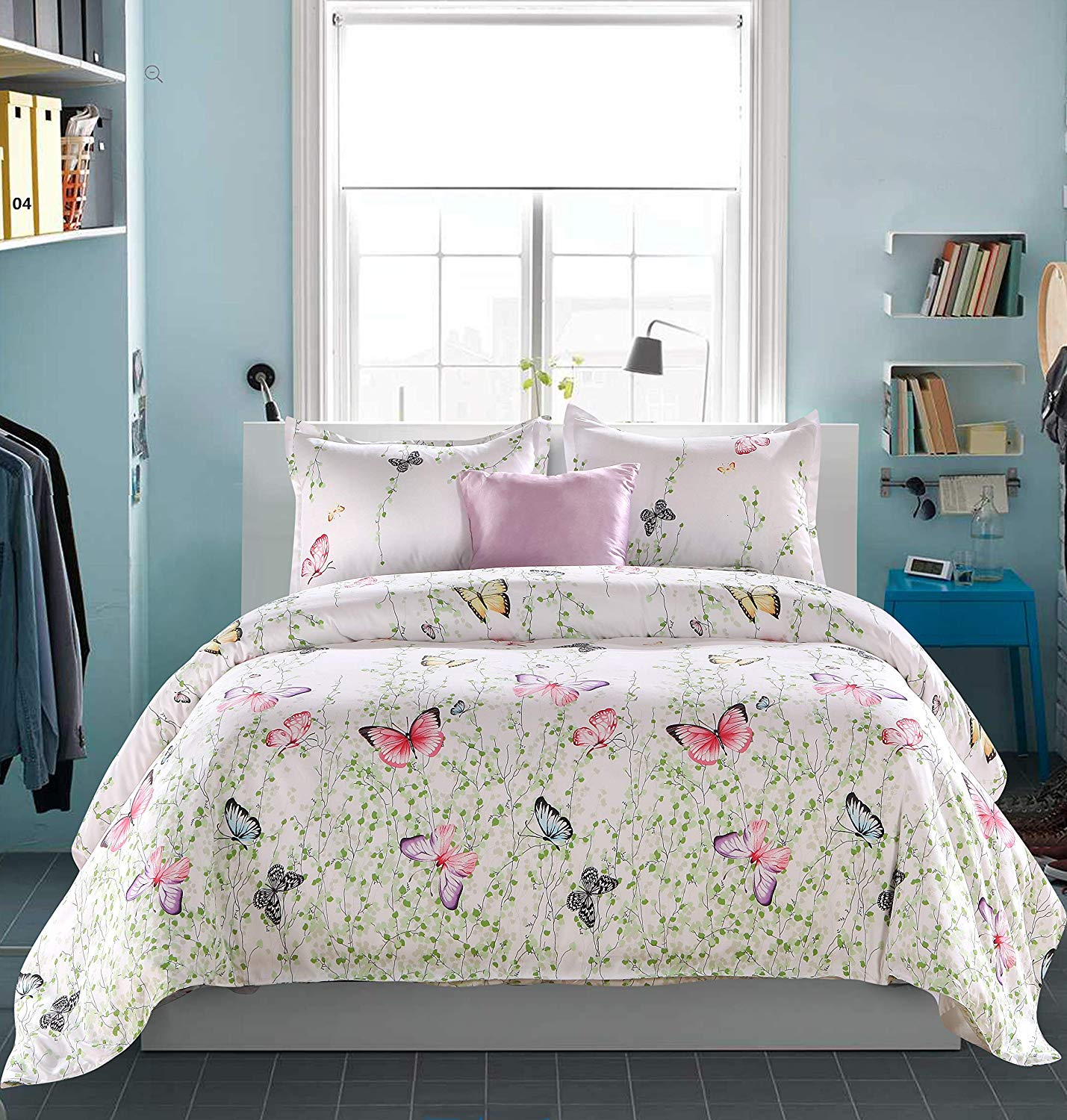 Butterfly Duvet Cover Set
---
While there are many butterfly bedding sets with large images of butterflies, try something like the bedding shown above instead. The colors are vibrant and the theme is subtle.

1. Picking the Right Paint Colors
Since butterflies come in many colors, you can choose just about any color for your walls. The best way to finalize on the color scheme is to look for the bedding set you plan to use. Picking out the softest color in the palette is the recommended way to go. To add extra POP to the room, use a darker shade as accents.

Another option you have today is to buy the baby furniture in a fun color and keep the walls neutral. The butterfly wall decals will provide the necessary color for the nursery.
Choose a Jolly Green for a great backdrop to your butterfly decor or even a pale blue as in the picture above that matches the blue in the bedspread.
Butterfly wallpaper or borders on an accent wall are great baby room ideas as well. I especially love this Butterfly Wallpaper - with all the beautiful colors in it, the rainbow is the limit!
2. Of Bedroom Furniture and Butterfly Beddings
The beauty of the butterfly decor theme is that your imagination can take you anywhere!
Gardens, Rainbows, Fairies, Flowers...all things colorful are a part of the butterfly decorations. 
Indulge in a Picket Fence Bed (it doesn't have to remain white) or add a picket fence border around the room. 
3. Butterfly Lamps and Accessories
Whenever you are creating a theme or are including themed kids bedroom ideas, remember to tie in the colors...and showcase the theme with a few key items only.

In other words, don't overdo the theme.
Other important factors to consider are - the age of your child and your decorating budget.
This gorgeous metal wall art will look great in any room and does not cost the moon either. Pink Flutter Butterfly curtains will be an amazing addition to your little girl's bedroom.
On the other hand, the beautiful Wide Butterfly Shaped Crystal Raindrop Pendant Light will look stunning in a teenage girl's bedroom.
Add a kids rug and some gorgeous butterfly wall decals to complete the look of the room. Kids bedroom ideas were never this simple to create.
4. Butterfly Wall Decals and Wall Art
---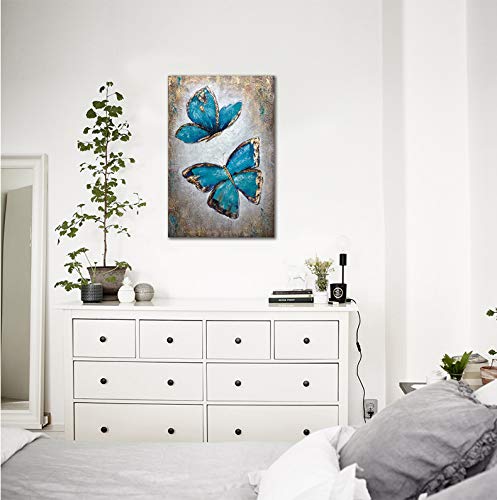 Hand Painted Adorable Butterfly Oil Paintings - Teal Blue and Gold
---
I am a BIG fan of wall decals. What a fun, easy and non-messy way to display your theme. And so beautiful too.
But there's just something magical about a large piece of art on just one wall. It can amazingly command your focus and make the room come elegantly alive. 
Just browse around and you are sure to find the perfect wall art for your baby nursery or kids bedroom. Ideas that had never occurred to you before will come crashing through and help you create a cozy yet cheerful room for your little one.
The beauty of the butterfly theme is that it can be changed to suit girls of all ages from infant to teenage.
Here is a look at an inspiration board for a teenage girls bedroom ideas.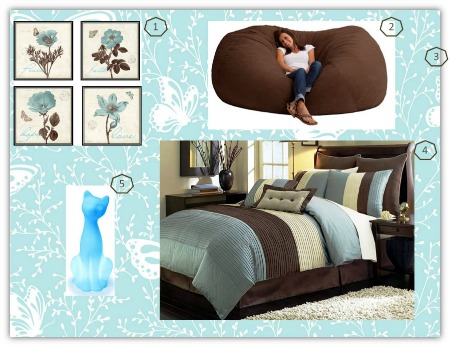 In this gorgeous butterfly themed teenage bedroom, I drew initial inspiration from the butterfly wall art. After I found the art, I started to look around for bedding that would suit. Isn't it amazingly similar?
They look like they are made for each other! 
But for the lamp I decided to add a whimsical piece instead. 
Actually there is a butterfly accent lamp that dittoes the wallpaper, but I thought that would make one too many butterflies. This Siamese Cat Lamp provides relief from the theme.
Here are the links to all these pieces: (Edit: some of these pieces have since been discontinued, but I have left the details here as they can serve as inspiration on how you can create a similar room)
Butterflies Wall Art - are called 'Touch of Blue' and have Peace, Faith, Hope and Love written on them. 
Fuf Extra Large Bean Bag Sofa - The over-sized brown bean bag chair looks oh-so-comfortable for a cozy read or to gossip with girlfriends.
Garden Butterflies Wallpaper - The wallpaper in the same turquoise shade on an accent wall matches the butterfly theme.
6pcs Blue Beige Brown Luxury Stripe Comforter Bed-in-a-bag Set Twin Size Bedding  - is a perfect mix of dark and light colors.
Siamese Cat Lamp - creates a soft glow (can be used as a night light) and adds some fun to the room.
Tell me what you think of my inspiration board and other kids bedroom ideas shown here.
Return from Butterfly Decor to Girl Themes
Return to Decorating Ideas Home Page
---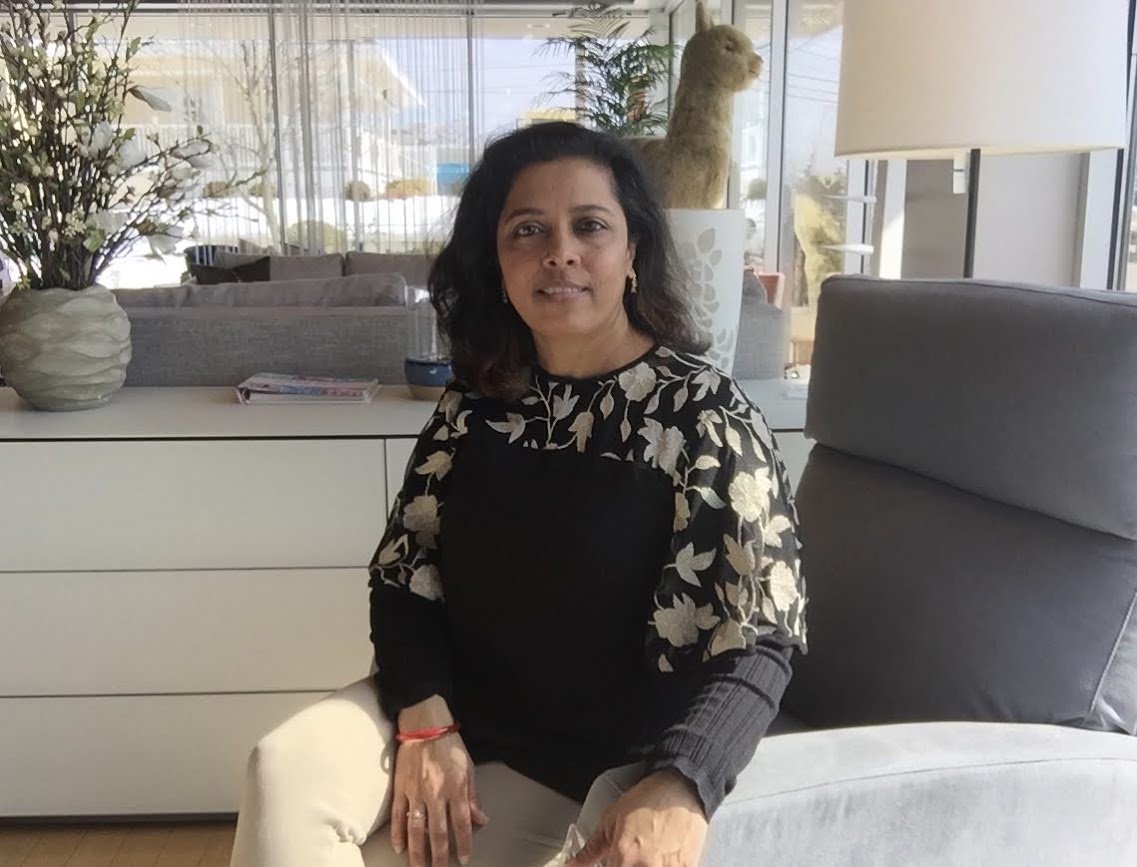 Hi, I am Richa and am super excited to see you here. I enjoy interior designing so much I went back to study it. Now armed with knowledge, passion and a vision to make 'happy homes', I hope this site will give you all the tools you need to make your kid's room happy too.   Read More...

---