Hey mommy-to-be, get your Nursery ready before baby arrives.  

Click here

.                                                                   
5 Inspiring Dorm Room Ideas that Add Style and Personality
How do you change boring-and-blah to stylish-and-wow? Read on for some great inspirational dorm room ideas that range from quick and easy to complete overhaul; and help you design a room based on your style and personality.
(We have included third party products with the goal to help you navigate the web easily so you can focus on what matters to you. Purchases made through links on this page may earn us a commission.)
Whether you are a freshman looking forward to your first step into the world beyond home or a returning student brimming with new dorm room ideas; the excitement of turning a boring cookie-cutter dorm room into a room that shines a light on your style and your personality; is very much at the fore-front of your thoughts.
In the past, decorating a dorm was quite the challenge - you have limited space; you cannot put holes in the walls; you are stuck with the same furniture that everyone else has. The only way to create your own style was to add fun dorm room bedding or stick up posters on the walls.
Not so anymore!
There are so many ways to add interest. So if you are stuck for inspiration, read on to get some out-of-the-box dorm room ideas.
Dorm Room Ideas 1. - Peel and Stick Wallpaper
Add peel and stick wallpaper for a touch of glam in your dorm room
I love, love, love peel and stick wallpaper. Not only do they come in a myriad different colors, patterns and even textures; they are so easy to remove and adjust to get the perfect fit. 
They instantly add  color and depth to a room that is really quite ordinary. If you are sharing with another, you can coordinate colors to give the room a more cohesive look. 
Don't want to fill your entire wall with the wallpaper? No worries, these can be used as artwork by adding them to panels and sticking on the wall with Command tape.
I had created my own version of wall art by choosing some gorgeous patterned paper from Michaels and gluing them to canvases for a one-of-a-kind wall decor.
Dorm Room Ideas 2. - Add a Headboard
Tavira Allure headboard provides a focal point and a soft spot to lean back on
Dorm room furniture is rather monotonous. A beautiful headboard can immediately add glamor and a hint of home to your dorm room. 
The headboard serves another purpose. It gives you a soft place to sit back against when you are up on your bed whether studying, reading or chatting with friends.  It also acts as a focal point in the room so make sure you find one that you really like. You can go as neutral or as vibrant as your personality permits.
Dorm Room Ideas 3. - Decorate with Plants and Accessories
Organize, Plan and Accessorize Your Dorm Room
Bring some of the outside freshness into your bland dorm room. Adding plants to a room instantly transforms your room to a cozy and homey feel. If you are worried about the maintenance, look for easy upkeep plants that need to be watered once a week...or get fake ones. They look so real these days.
Plants and other fun accessories can really make your dorm room feel like home - cuddly pillows, cute mirrors, photos and posters framed with Washi tape...there are so many little things that add up to the sum total of a room that you feel comfortable in and proud of.
Dorm Room Ideas 4. - Designing from Top to Bottom
Adding fairy lights and rugs personalizes your dorm room from top to bottom
Don't rely on the harsh ceiling light to give you the warmth and comfort in your little nook. Layer some fun fairy lights or colored lights for a softer look. You can hang them from the curtains, around the mirror or tape them across the wall. Remember to get a cute task light for your desk - for when you want to study without disturbing your roommate.
While the right lights can create the mood, the right area rug under your feet also adds charm to your dorm room. The rug not only adds gives your feet a warm hug as you get out of bed; it also covers most of the ugly floor to give your room more character.
Dorm Room ideas 5. - Over the Top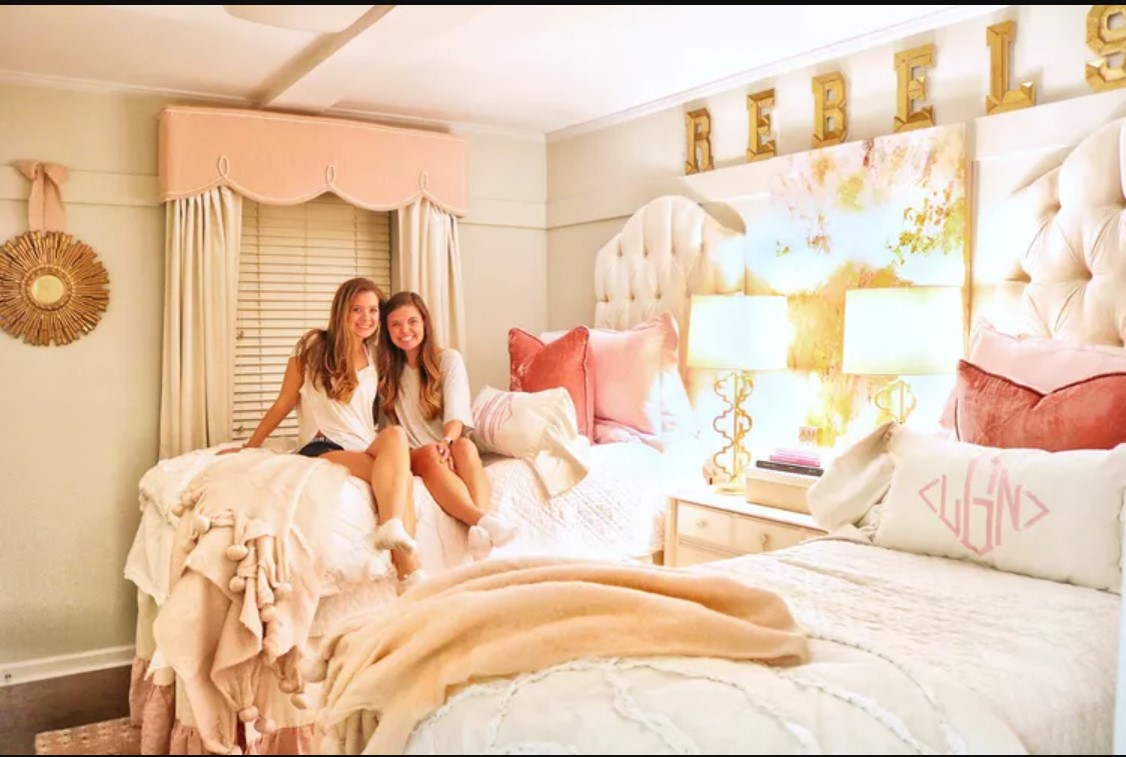 @THE_REAL_LIN_SHADY
If budget permits and you really cannot adjust to the idea of sleeping on a bed used by another, or a chair that many others have sat on before you...a complete over-the-top overhaul is called for.
Take the school issued bedframe, desk and dresser to storage; and bring in your own gorgeous furniture. Think 'Legally Blonde' vibes here. Create a vision board for the theme of your room, gather as many dorm room ideas as they appeal to you and shop as you would for the room at home. Just remember to get the correct measurements of the space before you shop, so you can make sure they would fit.
Bonus Tip - DIY your way to a beautiful dorm room
Whether you decide to change one thing or do a complete overhaul, DIY projects are a fun way to make your room uniquely yours. Write your name on a canvas or showcase your sewing talent. Surround yourself with items that you love, you made or are your interest.
The more comfortable you feel in your home away from home, the easier it will be for you to concentrate on your studies and your ultimate goal after college.  Make the best memories today for you to remember for ever!
Do you have a dorm room that you are extremely proud of? Send me pictures and I will add it to my social media with credit to you. 
Return to Top
---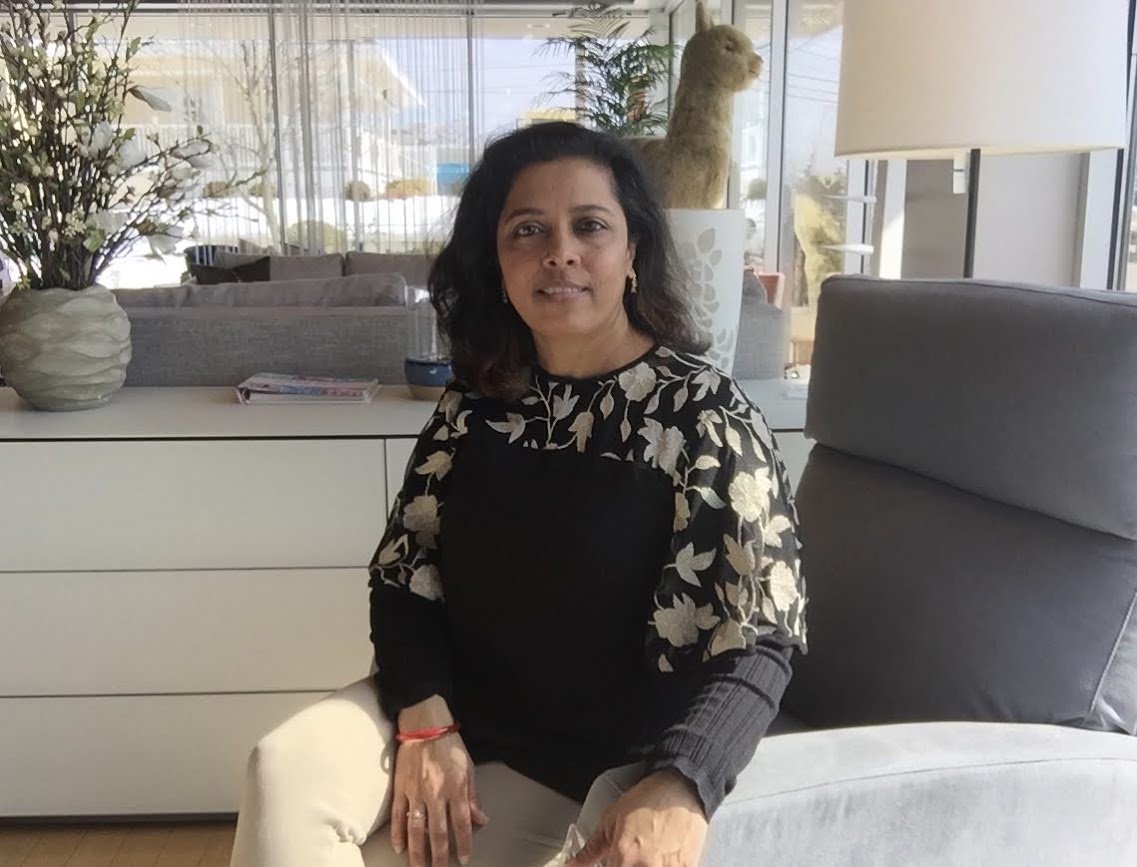 Hi, I am Richa and am super excited to see you here. I enjoy interior designing so much I went back to study it. Now armed with knowledge, passion and a vision to make 'happy homes', I hope this site will give you all the tools you need to make your kid's room happy too.   Read More...

---