Hey mommy-to-be, get your Nursery ready before baby arrives.  

Click here

.                                                                   
 An Eco-Friendly Bedroom is also Kid friendly. The overall health of your child is dependent on the environment around him. Don't take chances with it.
These 5 Easy Steps will help you design Your Eco-friendly Bedroom. We are talking paints; furniture; sheets; lights and my number 1 favorite.
(We have included third party products with the goal to help you navigate the web easily so you can focus on what matters to you. Purchases made through links on this page may earn us a commission.)
---
Find eco friendly bedroom inspiration and design in 5 easy steps. If you are like the majority of Earth-dwellers, you want to do your part to save the planet. But sometimes it's just too many things to figure out.
We all know we should read the labels and avoid all the chemicals in beauty products, and yet, it's so much easier to go with brands that we already know and love. And then, natural, organic products are heavier on the pocket too.
Eco-Friendly Nursery Mood Board
---
---
Before outlining the steps, let us start with this eco-friendly nursery mood board where all the products are environment friendly and the vibe of the room is soft and welcoming.
I love the look of natural wood in any room. Wood adds warmth whether you go with a cool color scheme or a warm color scheme. 
Create This Look
---
So here are some easy steps to design an eco-friendly bedroom inspiration. Weigh your options against your pocket and invest where you can, when you can. Some steps might be easier than others while some might need to be moved to a later date.
When designing an eco-friendly home, it is important to not feel guilty about that which you are unable to do. Every step counts!
Design Step 5: VOC-free Paint For the Walls
We are starting the countdown with the easiest step for an eco-friendly bedroom, and especially important in a nursery or child's room.
VOC's are a chemical compound commonly found in paints of before. Not only do they have that nauseating after-smell but can be harmful to children long after the smell has disappeared.
Luckily, VOC free paints are here, easily available and do not cost an arm and a leg. Insist on eco-friendly paints the next time you visit your local paint store.
---
Design Step 4: Natural and Organic Sheets and Comforters
As always, it's Nature to the rescue. Absolutely essential for babies, young children and those with any kind of allergies; look for natural and organic sheets and comforters. Just like clothes, sheets, comforters and to some extent, mattresses are close to your skin. You breathe close to the pillows and sheets, so you breathe in whatever might be in them. 
Keeping them as natural and chemical free as possible, will ensure that your skin and your breathe do not come in close contact with chemicals. 
Do not worry that organic will mean all-white. Check out these cute organic baby crib sheets and more.
---
Design Step 3: Eco-friendly Furniture
There are two connotations of what would be considered eco-friendly furniture.
Furniture that you acquire second hand from family, friends or off FB Marketplace that you are re-purposing is eco-friendly because you are stopping it from wasting on a landfill.
Furniture that is brand new can also be eco-friendly if it is made with recycled materials or manufactured by a sustainably sourcing company. Pay special attention to where your new furniture is coming from - locally sourced wood means less transportation; Greenguard certified (in the US) or similar non-toxic finish used on the furniture again means less off-gassing and less chemicals in your crib, bed, dresser etc.
---
Design Step 2: LED and Motion Sensor Lights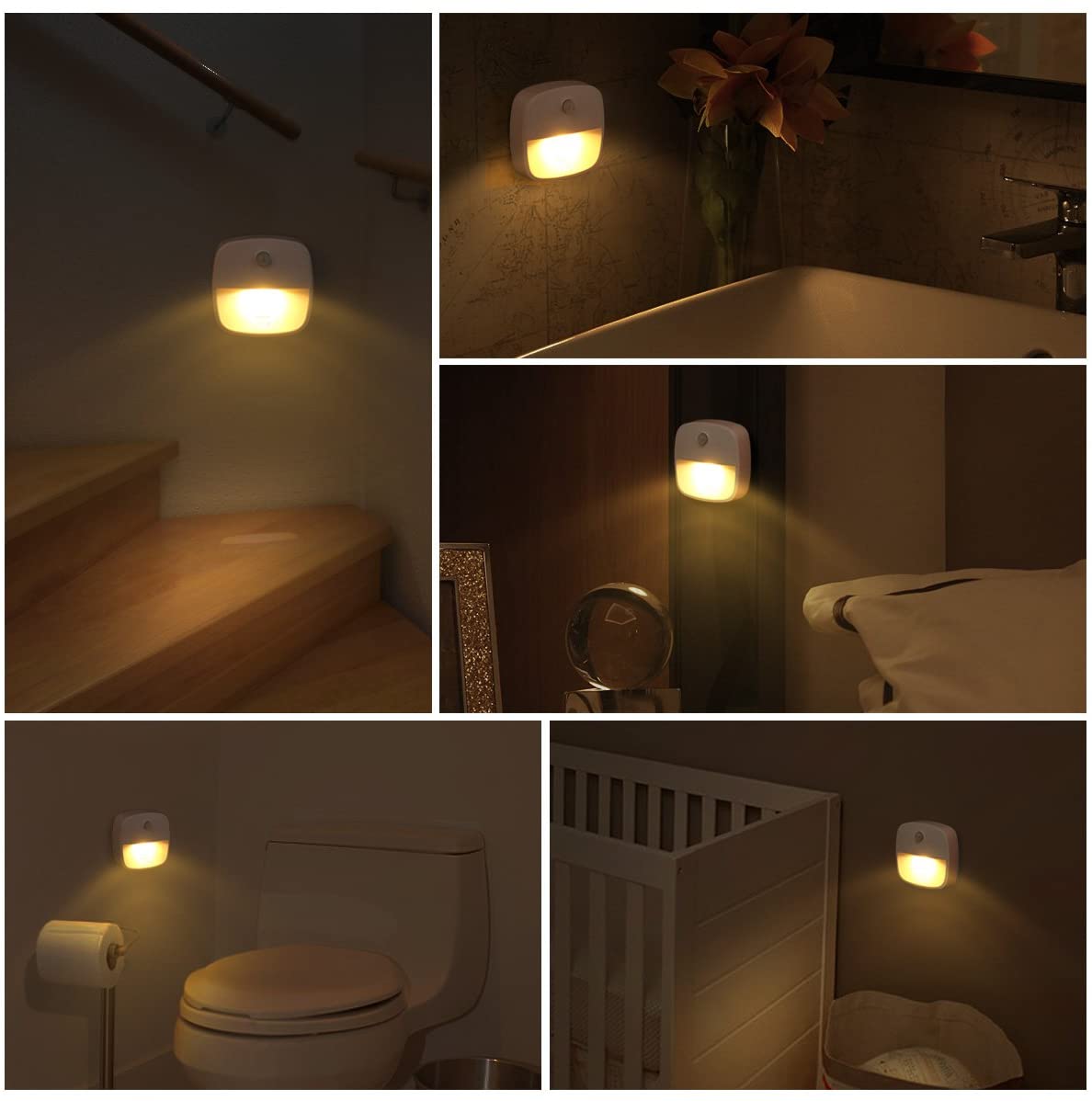 Motion Sensor Safe Lights
Quite the no-brainer in the modern world, LED lightbulbs consume less electricity and have a much longer life.
If you can invest in solar panels or other alternate energy sources, those are certainly steps in the right direction. 
If not, strive for as much natural light as you can get. Turn off lights in empty rooms, and get motion activated lights for smaller functions. We have installed battery-operated, motion-activated small lights at our stairway - now we don't need to turn on the big lights for a quick trip downstairs.
---
Design Step 1: Bring Nature Indoors (my favorite step)
This is my favorite step in designing an eco-friendly bedroom and actually any room I design. Add live plants to your home decor.
Indoor plants not only provide color, texture and warmth to the room, they literally breath life into it. Plants help purify the air inside your home. If you are worried you don't have a green thumb, head over to your local nursery and ask about plants that can survive with least maintenance. Trust me, they exist - I have proof!
---
These are simple steps that can help you jumpstart your eco-friendly bedroom design journey. Each of these steps are easy to do and won't hurt your pocket much.
Are you ready for some eco-friendly bedroom design inspiration? Look out for the gems in the next article. Also, join me on Instagram and Facebook where I post new inspiration as well as my series 'The Science of Design'.
---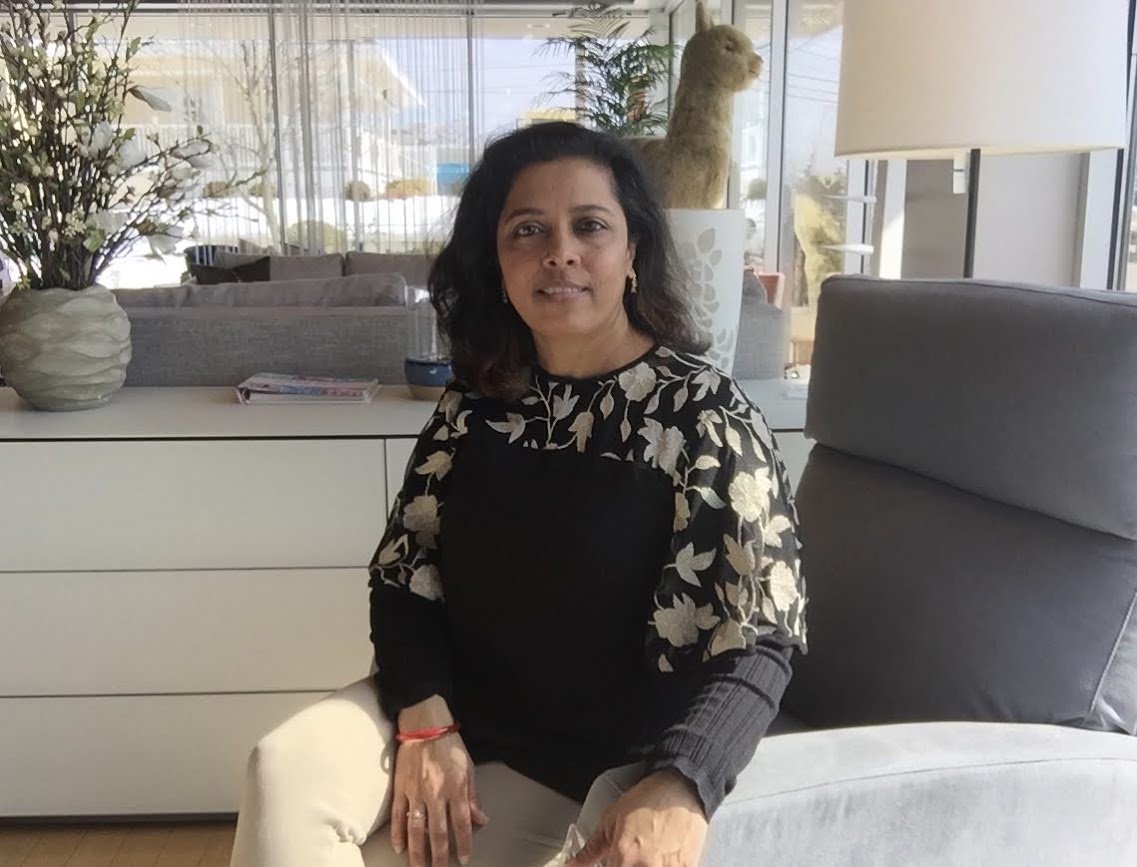 Hi, I am Richa and am super excited to see you here. I enjoy interior designing so much I went back to study it. Now armed with knowledge, passion and a vision to make 'happy homes', I hope this site will give you all the tools you need to make your kid's room happy too.   Read More...

---