Popular Halloween Costumes -2019
Looking for popular Halloween costumes of 2019? 

The wind is turning chilly, the leaves are turning red and gold and the new school year has begun.
Yes, I smell Halloween in the air!
You see, Halloween is not an event I grew up enjoying. Coming from India, this was a new experience...and perhaps that is why, I get as excited as my kids at this time of the year.

---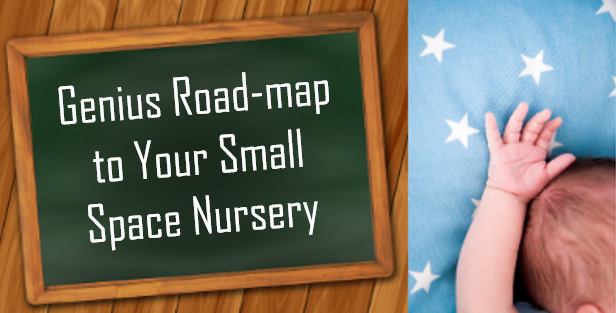 Sign Up For Your Gorgeous Baby Nursery
The 7-days-and-done FREE mini course that helps you find, design and decorate your Small Space Nursery is here!!
I am so excited to join you on a thrilling journey to a gorgeous baby nursery. Together we will design an amazing space for you and your baby to create many memorable moments in.
...the first 20 parents to sign up will be eligible to enter for a lucky draw. You could win a beautiful wooden name personalized for your baby!
---
Let's find out who the kids want to turn to this year.
So what were the favorite kid movies this year? Marvel movies seem to have taken the world by storm. 
There are always the favorites across generations - Vampires, Grim Reapers, Ninjas and Witches.
Without further ado (in random order) -
Here are our Top Best Halloween Costumes for 2019
I love looking at the best Halloween costumes and sometimes even try creating my own each year, trying to outdo the previous year. As a personal salute, I make sure I always dress up myself - perhaps a witch's hat or a bat headband.
This year I have not yet decided what to dress up as. But my kids have! My son is now 15 and wants to be the Joker (of course!) and my daughter will transform into a zombie/witch/vampire? Anyways, they are now old enough to take care of their own costumes, so I am home free!!
I did buy myself a spider hat and skeleton earrings. Maybe some face paint to go with it?
Which brings me to my favorite topic - Homemade Halloween Costumes!

We have divided these into 2 categories - Simple and Stupefying.
Simple but Popular Halloween Costumes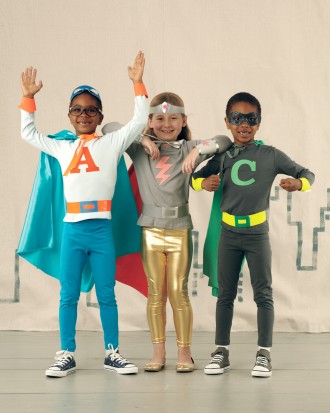 1. Be a Super Hero!
Transform a simple long sleeved T-shirt and Leggings into something spectacular. Stick alphabets, lightning bolts and belts to create the costume. A simple poster sheet cut in the required template creates the headband or eye masks. 

(This Halloween costume idea is from Martha Stewart's site)
---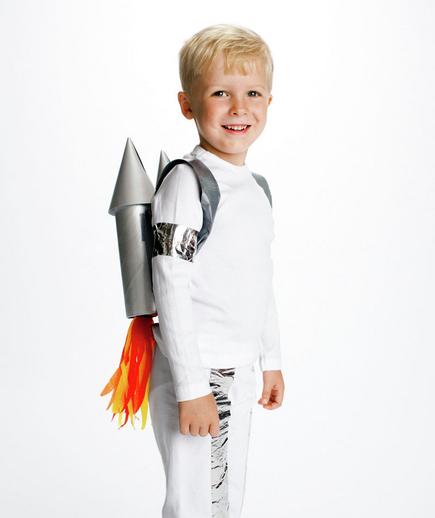 2. Ready to Blast Off!
Can you believe that you can actually achieve this awesome rocket man look with duct tape, Pringle boxes and party hats? The rockets are empty Pringle boxes with party hats on and spray painted silver. Red and Yellow streamers have you ready to blast off into candy-filled blissful space!

(You can find all the detailed instructions for this idea here.)
Stupefying Homemade Halloween Costumes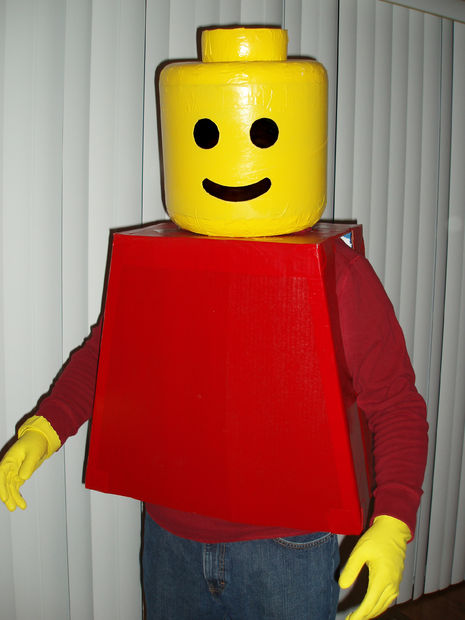 1. Lego man
The instructions to this amazing costume were too stupefying for me to follow. But I think if you are game for it, this will make your kids' Halloween truly memorable.

(You can find all the detailed instructions for this idea here.)
---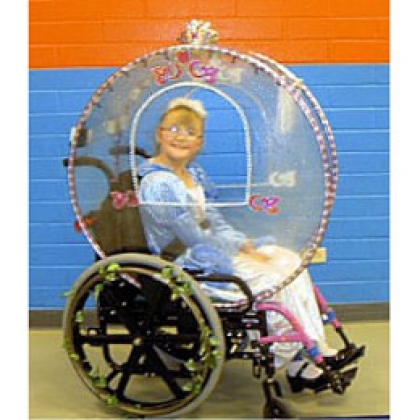 2. Cinderella Coach Costume
Wow! How absolutely innovative is this? I give full marks and bonus points to the parents who came up with this one. Cinderella's coach looks magnificent and the princess looks like she's having a ball!
---
The fun doesn't start and end with the costume. Feel too old for an entire costume getup? Get in the spirit of things with simple add-ons. Popular Halloween costumes need not imply a head to toe transformation.

1. Masks
You can go simple with a cardboard box on the head or poster paper cutouts. You can easily create Minecraft characters with markers and a cardboard box!  Feathered masks lend mystery with style. Or if you are in the mood to splurge, frighten your young trick-or-treaters with an Old Man Mask!

2. Wigs and Facial Hair
Turning you daughter into Rapunzel or your son into the Joker of Batman fame (don't they just love that?) is as easy as a wig and some face paint!

There is an amazing array of other knick-knacks you can add to the get-up - gloves, boots, wings, tattoos. 
The interesting Halloween decorations you can catch while driving around town already sets the scene...and the costumes simply are a must to do justice to the setting.
Are you motivated to try out your own Homemade Halloween Costume?
Or perhaps you liked one from our Popular Halloween Costumes pick?
Why not send us some of your best Halloween photos and we will feature your pictures in our article as well. 
I would love to hear your comments on this article. You can log onto Facebook and add comments below here.
Now that the costumes have been picked and ordered, let's head towards the other Halloween decor for that one-of-a-kind party you are planning to throw.
Go from Popular Halloween Costumes to Kids Halloween Party
Return to Decor Mom's Home Page
---
Did you enjoy this article? Was it informative? Tell us in a comment below.
---
Want More Decor?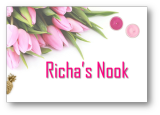 You can sign up for my free bi-monthly e-zine, Richa's Nook.
This is a great resource of ideas, information and a casual fun read to help you relax and unwind.
---