Hey mommy-to-be, get your Nursery ready before baby arrives.  

Click here

.                                                                   
Lego Storage - Stay Sane in Lego Universe
4 Mind-Blowing Strategies for Lego Storage
(We have included third party products with the goal to help you navigate the web easily so you can focus on what matters to you. Purchases made through links on this page may earn us a commission.)
I am quite convinced that Legos will ultimately takeover our planet. It's a done thing. No doubt about it at all.
Not that I am against them. In fact I think they are the greatest toy ever created.
Just think about it,
they are sturdy, 
they can be used and re-used, 
they encourage creativity and 
they keep kids busy (read- quietly sitting in one place) for a very long time.
Now if only we could keep them organized and stop them from appearing in the most unlikely places (like monsters under the bed). I believe this problem is as universal as lego universe is in every household.
---

LEGO Classic Medium Creative Brick Box 10696 Building Toys
---
As I research different ideas and strategies to conquer the Legos, I realize that each household needs to confront this battle differently.
This is because each child has his own unique way of building and playing. Does your child
- dump all the Lego pieces on the floor and scatter it around to look for the one (and only) piece he needs?
- like to have his pieces sorted by color?
- like to have his pieces sorted by size?
- like to keep his designs on display for-like-ever?
- leave them there after he is done? or quickly dump them in the first box he sees?
- like to carry his Legos with him to playdates and vacations?
Strategy #1. The Easy Clean Up Method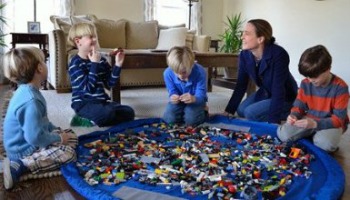 Lay-n-Go Activity Mat
This picture is worth a thousand words. An easy way of lego storage and play. It also has shoulder straps to help you carry it beyond your home - or even from one room to another.
Childrens toy storage doesn't get any easier than this!
Swoop bags are another similar option and come in a number of different colors.
Strategy #2. Lego Storage Bins Tactics
Lego Sort and Store
If you decide to invest in toy storage bins for organizing your Legos, you still have an amazing number of options to choose from.
Lego, of course, came up with the Lego Head which allows you to just dump all the pieces in and shake the head so the smaller pieces fall through to lower levels.
However, mothers have come up with some rather unique ways of stacking up.
If you have a small collection, muffin tins, bead boxes and other plastic boxes with dividers would work wonders. Do you buy mushrooms or strawberries? Wash the boxes and re-use for Lego storage!
For larger collections, you will need a more substantial Lego storage solution.
Regular toy organizers come complete with bins of different sizes and you could label each bin for different types, colors or sizes of Legos.
One mom recommends Glis boxes (found at IKEA) if you would like to organize by type. 
Don't stop there though. Check out hobby boxes, tackle boxes - even tool boxes can be re-vamped to store your lego bricks and minifigures.
Check out this 44-Drawer Hardware and Craft Cabinet. It is perfect of you can get your kids to keep everything back in it's proper place.
Strategy #3. The Lego Table Approach
While you can easily buy a Lego Table at any toy store, it is just as easy to create one of your own. 
You could convert the childrens table and chair set by sticking the Lego baseplates on half the table, leaving the other half for other work.
And if your child is a major Lego buff, you might be tempted to attempt something like this,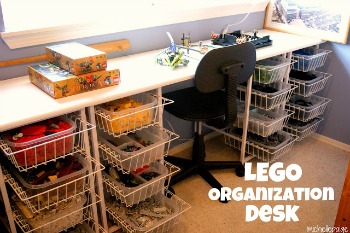 But if this looks like too much trouble, I found this super easy, functional and good-looking solution to a Lego table...
Yup...this is more my kind of thing.
Strategy #4. The Lego Wall Maneuver
Not enough space for a Lego table? Take your Legos vertical. Double sided tape and Lego baseplates are all you need for a project like this.
So what is the simple rule to conquer over the Lego universe bent on taking over your house? Divide and Conquer!
And before we leave the awesome world of Legos and their staggering Lego storage problems, here is a unique look at the awesomeness (and timelessness) of Legos.
A group of men at NPIRE, a small agency in Hamburg, Germany, spent over one year (of their spare time) and 55,000 Lego bricks to create and complete their LEGO wall divider.
Their patience and creativity encompasses all the reasons why we revel in the mess of Lego!
Return from Lego Storage to Decorating Ideas Home Page
related articles
---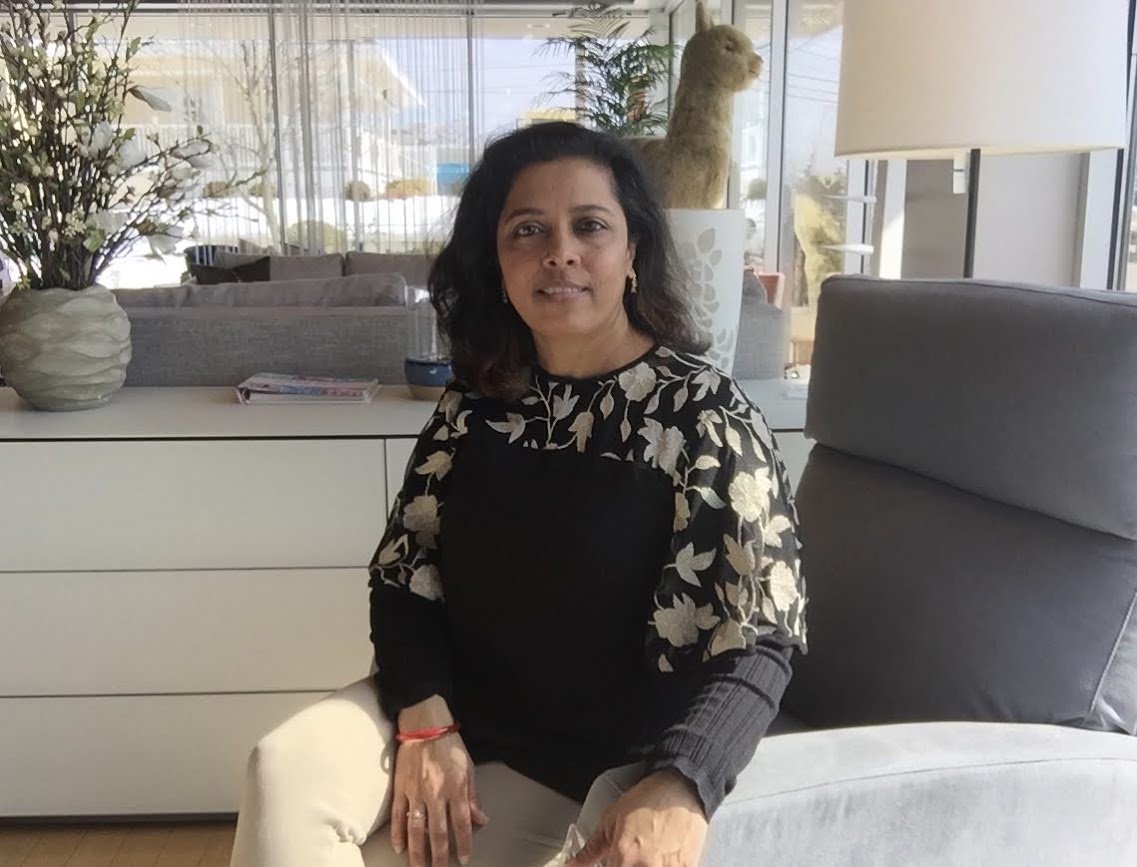 Hi, I am Richa and am super excited to see you here. I enjoy interior designing so much I went back to study it. Now armed with knowledge, passion and a vision to make 'happy homes', I hope this site will give you all the tools you need to make your kid's room happy too.   Read More...

---