Hey mommy-to-be, get your Nursery ready before baby arrives.  

Click here

.                                                                   
Hello Kitty Bedding is so Cute and Chic
Hello Kitty Bedding and Decor is Both Cute and Chic
A few days ago, I was driving my daughter to her ice-skating class, when I noticed the car in front of me.
It sported a huge Hello Kitty silhouette on the back and the licence plate read **HK* - obviously someone in there is a HUGE Hello Kitty fan.
(We have included third party products with the goal to help you navigate the web easily so you can focus on what matters to you. Purchases made through links on this page may earn us a commission.)
And the bulb in my head turned on. I'm not quite sure why, but Hello Kitty has an amazingly huge and loyal fan following. 
So I decided to check out some Hello Kitty Bedding and other room decor to see what I could find...and I do believe, only Star Wars theme could give HK a run for her money.
In all else, she reigns supreme.
---
Sanrio Hello Kitty Sweetheart 4 Piece Toddler Set
---
If you have been reading my articles on kids room themes and have seen other vision boards I have created, you know that I always say 'Less is More'.
In the case of a Hello Kitty themed room, I think we could make an exception. The toddler collection shown above might have an overdose of HK, but trust me, your little one will not mind.
Once again, I give you two different vision boards - one for the younger girls and one for teens. Don't forget to scroll to the very bottom of the page, as I have devoted an entire section to some interesting DIYW ideas.
Vision Board 1 - Hello Kitty Bedding for Young Girls
---
Vision Board 1 - Hello Kitty Girls Bedroom
---
Here is one theme that your daughter might carry way into adulthood too. Investing in this lovely Hello Kitty Bed is a good idea. Even if she does move on to other interests, the bed's headboard is so subtle and beautiful that it will not look out of place.
With the bed taking all the attention, you should tone down the bedding. Any soft pink or violet bedding would look great. We found this cute pink kitten sheet set that would complement the theme beautifully without being loud.
HK pillows come in all shapes and sizes. Choose one or many, depending on whether you are a decorative pillow collector or not.
The HK game rug is super adorable and gives your young one additional playtime with her favorite - Hello Kitty!
The room would not be complete without some Hello Kitty Wall Decals  gracing the walls. These here are the basics that would give you a great Hello Kitty themed girls bedroom.
From here on, add as much or as little as you want to show off your HK collection.
Vision Board 2 - Hello Kitty for Teen Girls Bedroom
---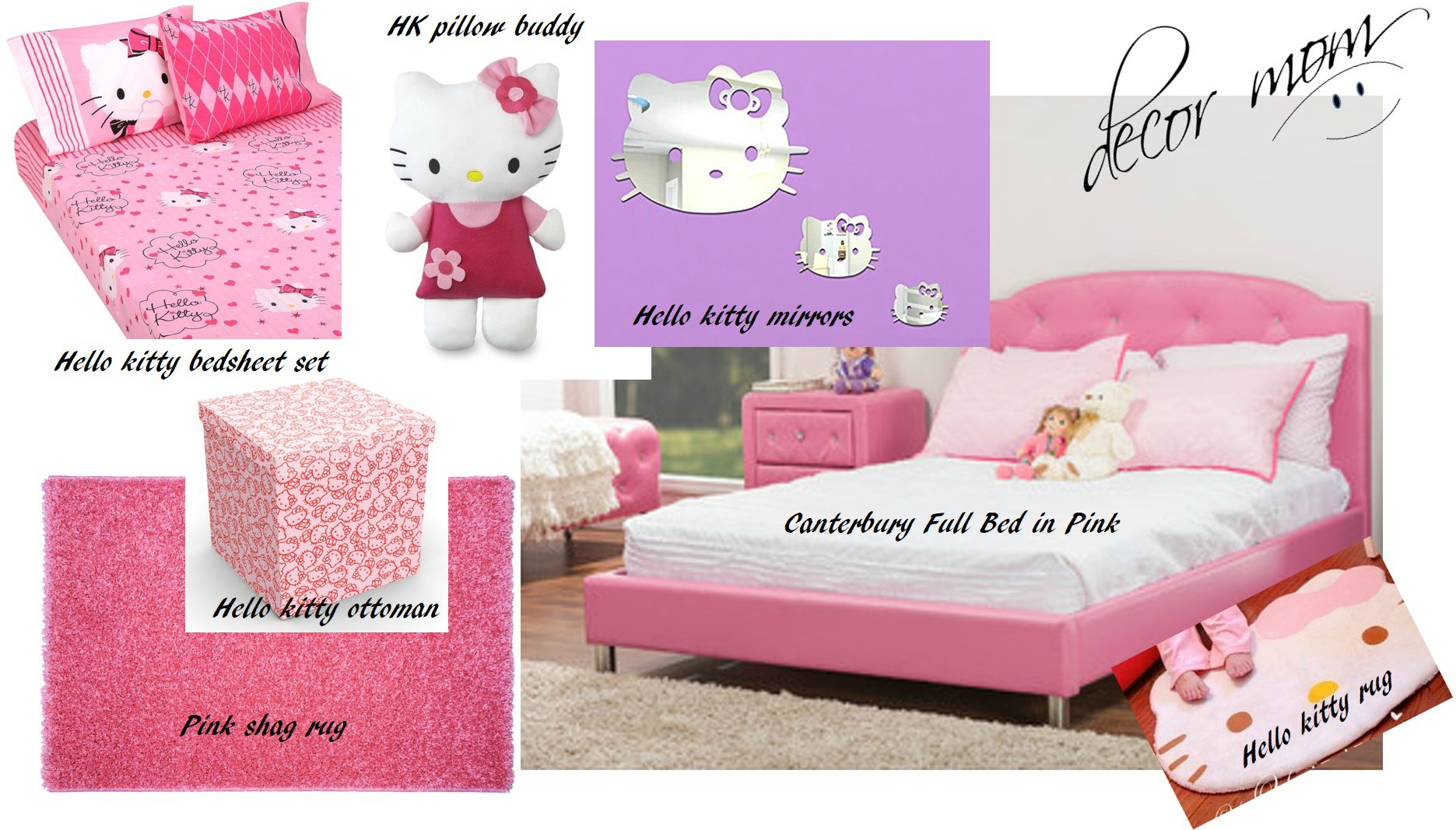 Vision Board 2 - Hello Kitty Teenagers Bedroom
---
I absolutely LOVE the pink Canterbury Panel bed I found for you. Isn't it gorgeous? And this shade of pink is just right. Mmmm. Delicious. De.li.ci.ous. It's a keeper, for sure. Themes may come and themes may go but this bed will stay with you forever. Mmmm.
Okay. Moving on.
Bring in the theme with your lovely Hello Kitty Bedding set. Add on the HK pillows as well as this sweet Hello Kitty Pillow buddy...and the room is almost done. Since the bed usually takes up the bulk of the room, creating the theme on the bed is the best way to show it up.

Keep the HK rug for her to step on as she gets off her (awesome) bed, even as the pink shag rug adds warmth and color to the room. Even if you have carpeting on the floor, one area rug in the room relieves the monotony of the single color.
Did you know you have other interesting and kid-friendly flooring options?
Mix in the storage ottoman and some wall decor like the cutesy mirror set or a Hello Kitty chalkboard decal for a nicely rounded off bedroom.
Hello Kitty is in the Bathroom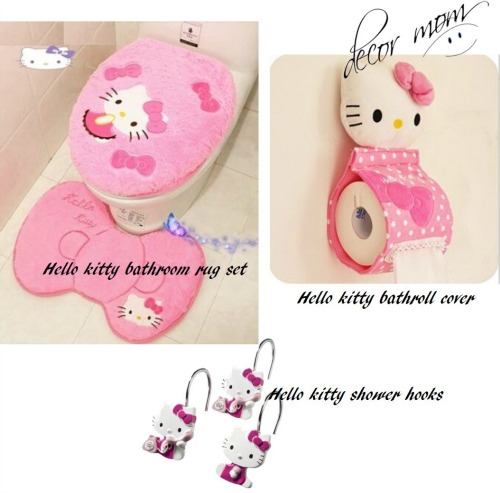 Find it all at Amazon
The Hello Kitty bug may be biting me too as I seem to keep going on an on about her. 
While the Hello Kitty bedding collections are vast, the bathroom selection is just as amazing and quite unlike any other. Your daughter will take pains to keep her bathroom looking beautiful just so HK will give her approval.
She is quite a queen.
Hello Kitty Moves Out of the Room
Fans of Hello Kitty love to show their loyalty beyond the Hello Kitty bedding and other home decor. 
And Hello Kitty shows her love by letting her fans do exactly that! Splurge on a HK diaper bag and take your baby out in style. Buy adorable HK Car Seat Covers (I've never seen this in any other themes, but I'm sure this could be a completely new decor market) or create a sensation with this stunning HK compact mirror. 
HK's bow is a signature piece of her look. Put a HK bow on your baby's head...add the whiskers and you could be ready for Halloween.
Creative Hello Kitty DIYW Ideas
It is quite tempting to go all out and buy all the items that can beautifully show off your theme and complement the Hello Kitty Bedding in your room. 
Here are some easy DIYW ideas that could help you stick to your budget without compromising on the look and quality. Also, when you see your own hard work pay off, the room looks just a tad sweeter.
Bow Silhouettes - Hello Kitty's bow is as famous or maybe even more famous than the rest of her makeup. Print a bow or draw your own onto a stencil. Cut, paste and dab on the paint to cover your walls, your furniture or your closet for a cool Hello Kitty theme.
HK Wall Art - Print out a silhouette of HK. Cut carefully to remove only the printed lines. Place the paper over the canvas / wood / metal or mirror base. Brush glue on the cut lines and sprinkle on the glitter. 
Drape Hold backs - Glue Hello Kitty Figurines to simple drape hold backs for a totally new look.
Hello Kitty Hooks / Drawer Pulls - In the same way, glue HK figures or small toys over hooks or drawer pulls.
Hello Kitty Headboard - Don't have a fancy headboard? Buy Washi tape in the color you like. Lightly draw the shape of Hello Kitty onto the wall behind your bed. Tape over the drawing for an instant headboard.
Phew.
I'm glad I got all that off my chest. I was impatient to get to the end of this page and make sure you got all the yummy ideas running around in my head.
Are you on fire to get your own Hello Kitty Bedding and start your room decorating today? Go on. Do it. And then come back here and tell us all about it.
Return from Hello Kitty Bedding to Girl Themes
Return to Decor Mom's Home Page
---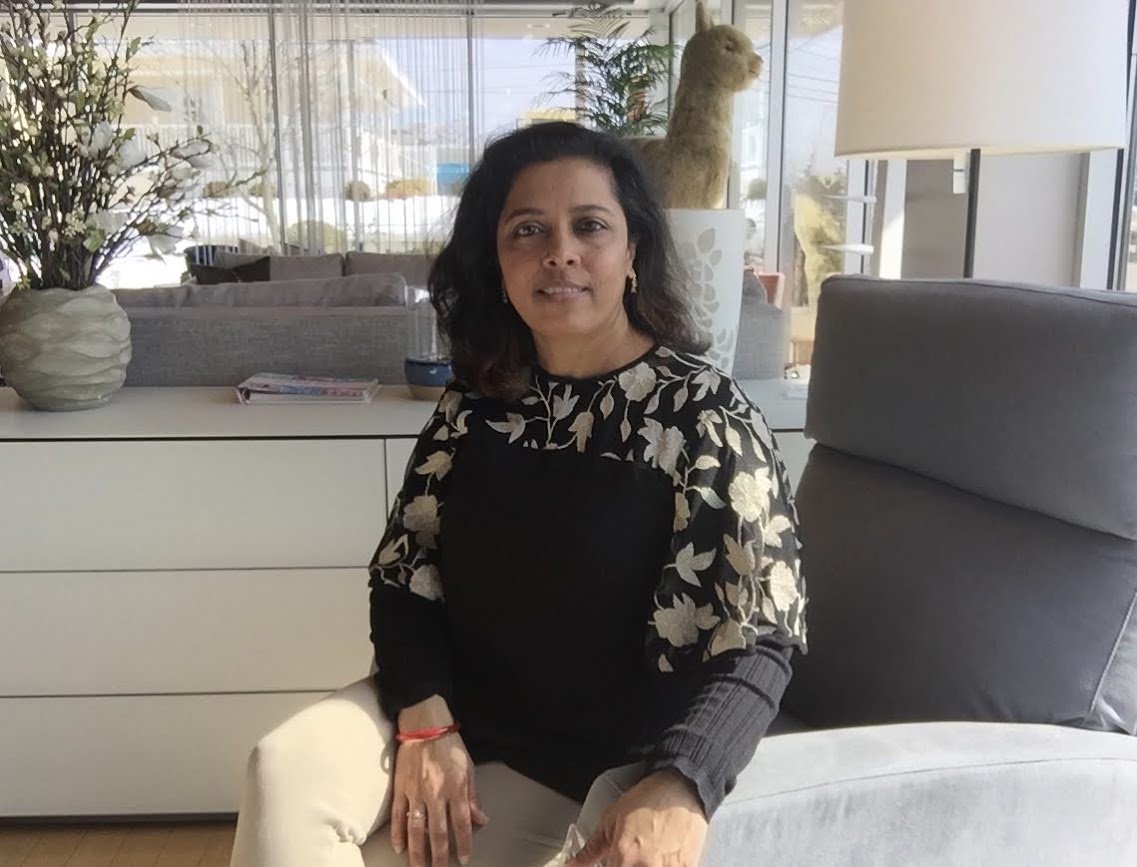 Hi, I am Richa and am super excited to see you here. I enjoy interior designing so much I went back to study it. Now armed with knowledge, passion and a vision to make 'happy homes', I hope this site will give you all the tools you need to make your kid's room happy too.   Read More...

---