Hey mommy-to-be, get your Nursery ready before baby arrives.  

Click here

.                                                                   
Kids Bedroom Decorating...
with Charm and Whimsy
Interview with Ms.Esther Sadowsky on Kids Bedroom Decorating
(We have included third party products with the goal to help you navigate the web easily so you can focus on what matters to you. Purchases made through links on this page may earn us a commission.)
Intriguing Bedroom Decorating Themes; Funky Kids Bedroom Decor, Fancy Bedroom Storage Ideas. These are just some of the issues that boggle our minds as we set to tackle our kids room decorating project. How do the experts do it? Wouldn't you like to know?

Welcome to our series on Meet the Experts. This is where we hope to bring you some of the finest interior designers from all over the world, to discuss and share their thoughts and ideas on kids bedroom and baby room decorating; interior decorating tips on bedroom storage and other key issues; and to showcase their favorite kids bedroom decorating themes.

---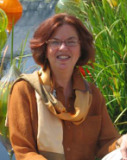 We are honored to start our series with an eminent interior designer who has been designing the kids rooms since 1983! Esther Sadowsky's bedroom decorating skills have caught the attention of The Wall Street Journal, House and Garden, Parents Magazine and more. She has also appeared on HGTV, the CBS Morning Show and several Designer Showhouses.
The name of her firm Charm and Whimsy (www.charmandwhimsy.com) illustrates her focus on kids bedroom decorating more clearly than any words. Without further ado, let us turn this over to her and get her insight and interior decorating tips.
Q1. Your web-site proudly proclaims 'Children's Interiors and Grownup's too'; you definitely focus on kids bedroom decorating. What is it that draws you there?
"I have always liked the use of bold colors and fun room arrangements and where better to do that, but in a child's room. I also like to make an early impression on a child's life and by giving them a place to play, read, explore and rest, I know they get a great start."
Q2. Your love for drawing started at an early age. Does it still help you look at things from a child's perspective?

"I have always admired childrens artwork and am a big proponent of using a child's own art in the design of his or her room. It develops self esteem and pride. I have made large collages using bits and pieces of their work and after framing, see their reaction...it's priceless."
Q3. Let us talk about some of your work. The Garden of Delight room
has to be one of our favorite kids bedroom decorating theme. Can you tell our readers some of the key features of the room and your inspiration?
"The Garden of Delight room was inspired by the carved flowers in the headboard. I chose the floral fabrics and the companion border paper to pull the room together. With the hand-painted furniture and custom designed rug, the room has a very cohesive feeling while being a rather large room.I particularly like the garden gate as a cover to the radiator and a place for her dolls to "hang" out."
Q4. It is emphasized that when decorating baby or kids room, you must always seek their opinion. Sometimes though, their demands might not be practical. How would you deal with that?
"It depends upon the age of the child in question. I do ask their opinions, it is, after all, their room. If the answers are just too out there or I get "I don't know", I make suggestions and as we talk, a style, a theme or a color palette emerges. With an older child, I always want their input. Girls want what their friends have and boys want their room to be cool. 

Regarding color choices, for an accent wall, I and usually the parent have no problem with a fun, bright color. Other accents such as a throw rug, lamp shade and such are easily removed when the time is over."
Q5. The Bus Stop room embodies both charm and whimsy. What are the safety issues you keep in mind when designing a special bed like this?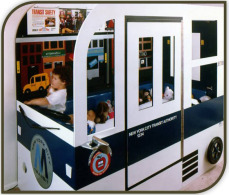 "The bus bed was designed for a very narrow room. It had to encompass all the child's needs. Sleep, play and clothing storage were the main features.
It had a back door for entering and leaving the bed, it had open "windows" for ventilation and very cushioned sides for safety.
The front door was opened only to reveal the large storage drawers below. The bed has a working phone, windshield wiper, rear view mirror and all the actual NYC bus stickers to create a very real bus feeling."
Q6. In this room, you have beautifully created separate spaces for brother and sister with colorful double-sided room dividers. Can you give our readers some fun tips on personalizing shared bedroom decorating?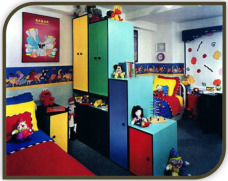 "Shared spaces, whether for a brother and sister or children of the same sex, must give each a sense of specialness, privacy and a unique feeling of being alone while still sharing. 

Siblings of the same age, as with twins, still want their own space to be alone or with friends and sharing brother/sister rooms, have to deal with privacy issues most of all. I like to feature what each child likes in their space.
Create a theme for each or treat the walls in a similar color family but a little different. Design a mural curtain to divide each childs' bed or feature a large cork board with each child's own art, awards, calendars and such for their own identity."
Q7. Our readers agree that dealing with clutter is a big issue in the kids room. Your innovative design with the captain's bed is very appealing. Can you give us some additional solutions for storage and organization as part of the bedroom decorating?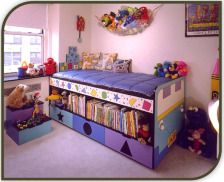 "Today it is easy to find ways to create storage in a child's room.
Look at all the wasted spaces under and above the beds to store or hang items for show or for storage. Plastic and wicker bins, wooden cubes and fabric hampers are all suitable for their dolls, game pieces and ever growing toy collections.
Look up at the walls and see how high can you go with shelving and still make it accessible for the child to retrieve their stuff. Soft and cuddly things can go up high, books can frame the room."
Q8. Please share your favorite children's room among all you have decorated over the years, and what makes kids bedroom decorating so special?
"It is not so much the room, as it is the child that lives in it, that makes it a special room. I have had so many wonderful experiences with designing children's rooms over the years, but it is when the interaction with the child results in a conversation about "their" room, that I hold dear.
When a toddler takes my hand to show me his/her own room or new bed as though I don't know who did it, that I get all goose bumpy. Their notion that I had nothing to do with their room still amazes me and still gives me the passion to create more fun, imaginative childrens rooms."
Thank you Esther for the insightful decorating tips and for sharing these charming pictures of kids rooms.
---
Dear Readers,
We hope you have enjoyed the Interview with Ms.Esther Sadowsky of Charm and Whimsy. To contact her directly, head over to her web-site,www.charmandwhimsy.com.
Add Your Comments
Do you have any questions or comments? Did something here help in your kids bedroom decorating project?

Which are your favorite rooms from the ones we have shown above?

State your opinion; Make yourself heard. This is where YOU find your voice.
---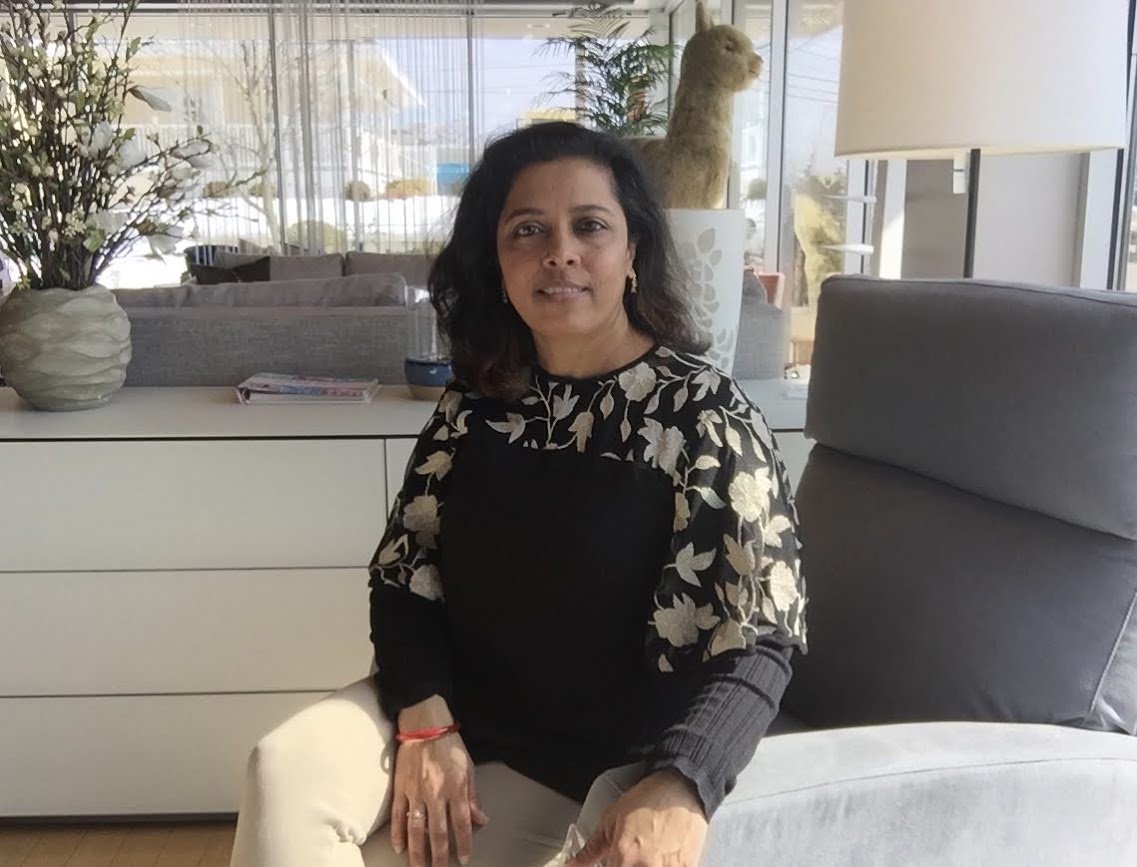 Hi, I am Richa and am super excited to see you here. I enjoy interior designing so much I went back to study it. Now armed with knowledge, passion and a vision to make 'happy homes', I hope this site will give you all the tools you need to make your kid's room happy too.   Read More...

---