Hey mommy-to-be, want your very own Nursery Decorating Calendar?

Click here

.

Kids Room Of The Month
Every month we will feature one room that inspires us. Rooms designed and created by moms and dads just like you; not professional designers.
(We have included third party products with the goal to help you navigate the web easily so you can focus on what matters to you. Purchases made through links on this page may earn us a commission.)
---
Welcome to the Kids Room of the Month - JULY 2021

This month we applaud Beth Coleman and her amazing husband for a room that is every young kid's favorite room! From the beds, to the stencils, to the cute animals and that lantern...GENIUS!!!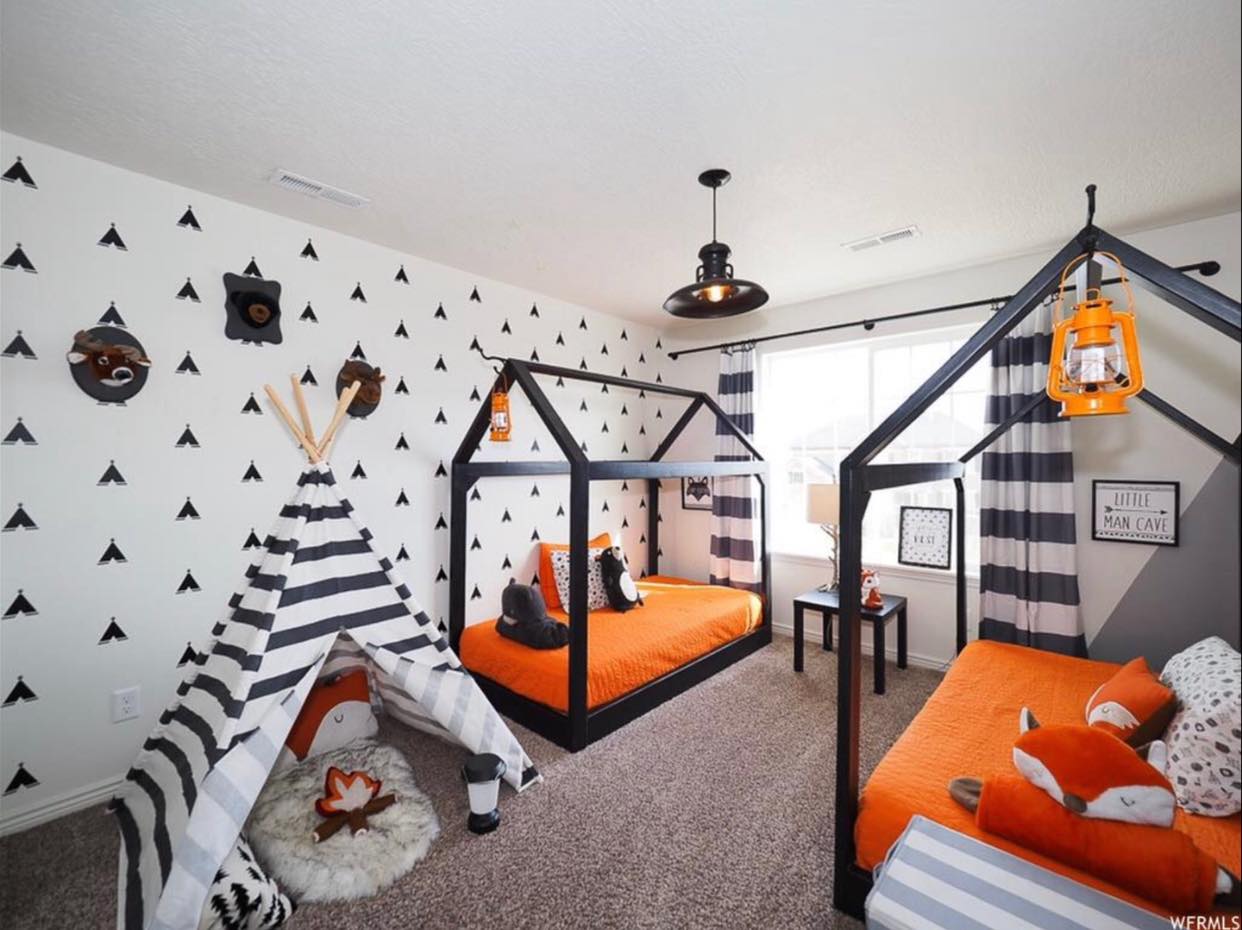 Bring the outdoors in with a cute animal and camping themed room!
It's hard to pick just one thing that I like more than any other in this room. I can't stop gushing!!
I mean, look at those beds - lovingly made by a very handy dad - I love that they are not too high off the floor. I can just see the two little monkeys jumping on the bed.
The color scheme with a perfect shade of orange to create the pop in this black and white animal themed bedroom makes the room vibrant and cheerful.
---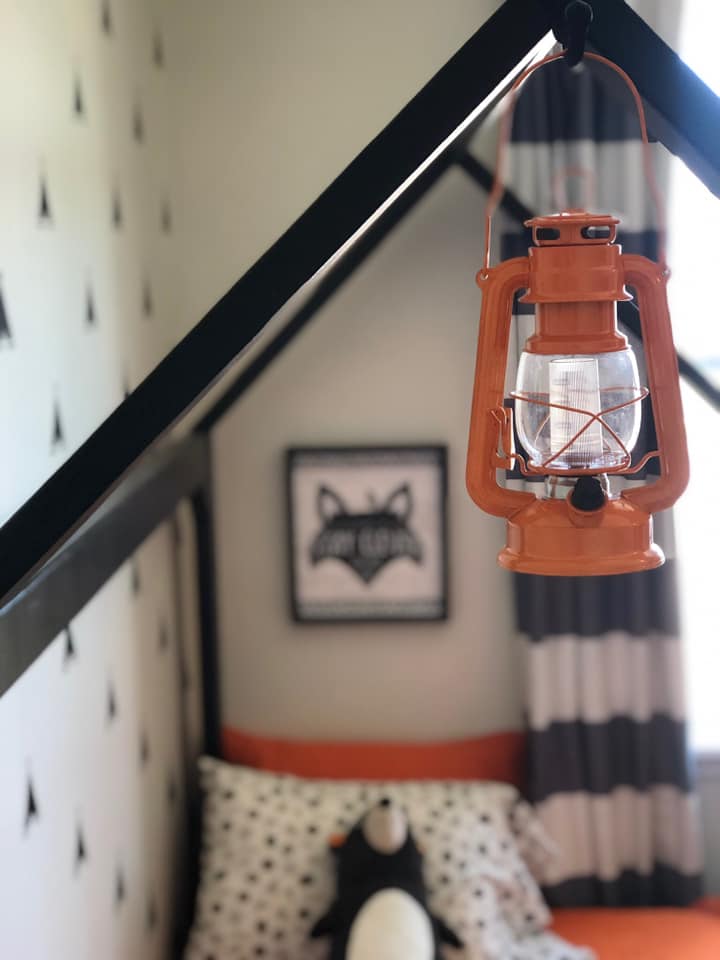 A single lantern pulls the orange from the floor to the ceiling.
---
Full brownie points to the one who came up with this genius idea of the lantern hanging over the bed.
It adds to the air of an outdoor camping experience, pulls the bright orange color from the bed to the ceiling and perhaps adds a little accent lighting (nightlight?). Every child's room (and maybe grown up's room too) should have a little bit of whimsy, don't you think?
Did I mention...G.E.N.I.U.S ?!!!
---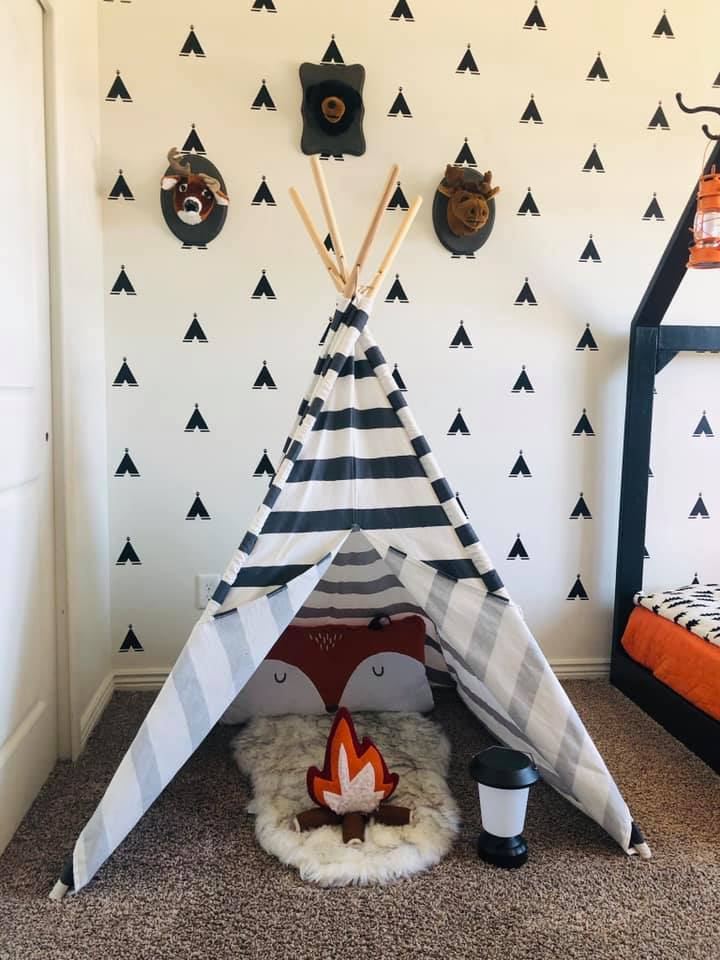 Spin tales of adventures around the bonfire!!
---
The decals on the walls were made by mom and her friend on Cricut. While it must have taken forever to make and then stick them on the walls, the end result is such a sight to behold. 
The only thing missing here, is the look of pure joy that must've been on the faces of 2 very lucky young men!!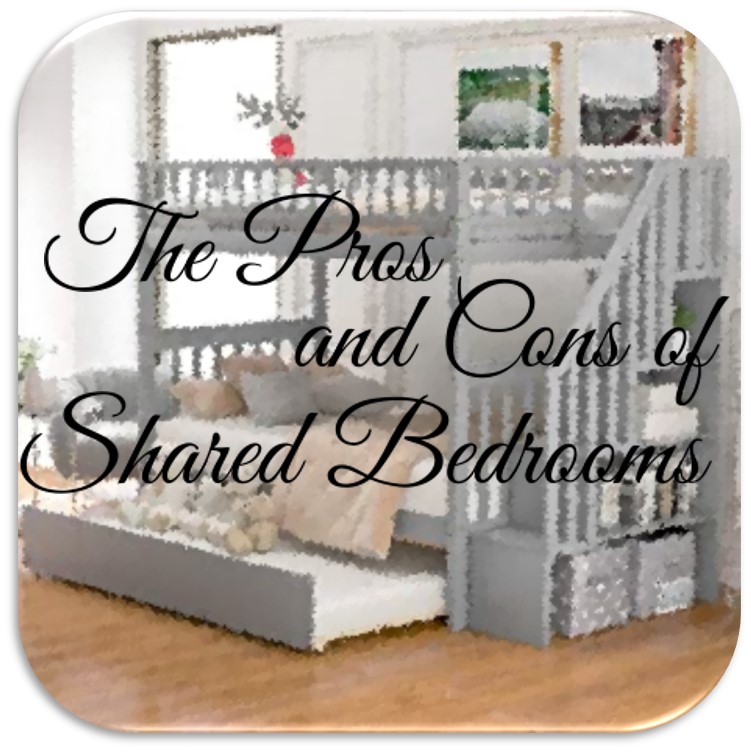 The Pros and Cons of Shared Bedrooms
Are you wondering whether to have your kids share a bedroom or give them their own private bedroom?
Perhaps you feel guilty that you are forcing them to share as you have limited space in your home?
This article is for you. Read on...
Would you like your room to be featured in our Room of the Month?
Email photos and a write up through contact_us@decoratingideas4kidsrooms.com 

Previous Room of the Month Winners
June 2021 - unicorn themed young girl bedroom
May 2021 - a jewel toned nursery
---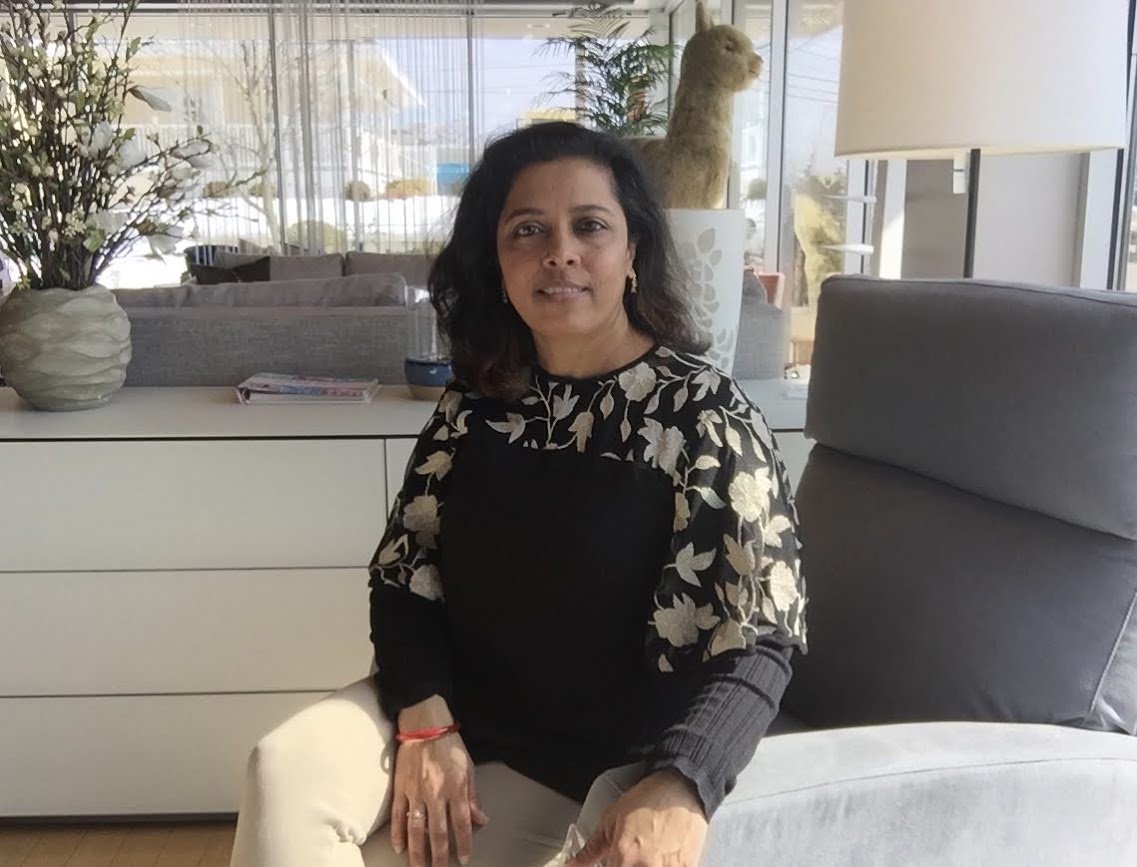 Hi, I am Richa and am super excited to see you here. I enjoy interior designing so much I went back to study it. Now armed with knowledge, passion and a vision to make 'happy homes', I hope this site will give you all the tools you need to make your kid's room happy too.   Read More...

---