Hey mommy-to-be, get your Nursery ready before baby arrives.  

Click here

.                                                                   
Home Projects Completed by LushBerry Interiors
(We have included third party products with the goal to help you navigate the web easily so you can focus on what matters to you. Purchases made through links on this page may earn us a commission.)

Here are some of my home projects that give you an idea of my style and design aesthetics.
Kids and Guest Bathroom
The bathroom was very dated with a blue tub, blue sink, blue and white tiles and baby blue walls. Since this was a bathroom to be used by teenagers as well as guests, I wanted to create a pleasing atmosphere with dark colors on the walls and a more open feel to the long and narrow space. 
For this home project, I decided to cut the tub wall in half to create the open feel, with beautiful glass doors to keep the water in.
Wainscoting on the lower half of the wall allowed me to add the dark Chocolate Sundae color to the top.
A gorgeous green-brown-silver tile runs the entire length of the bathroom again adding to the feel of a big and open space.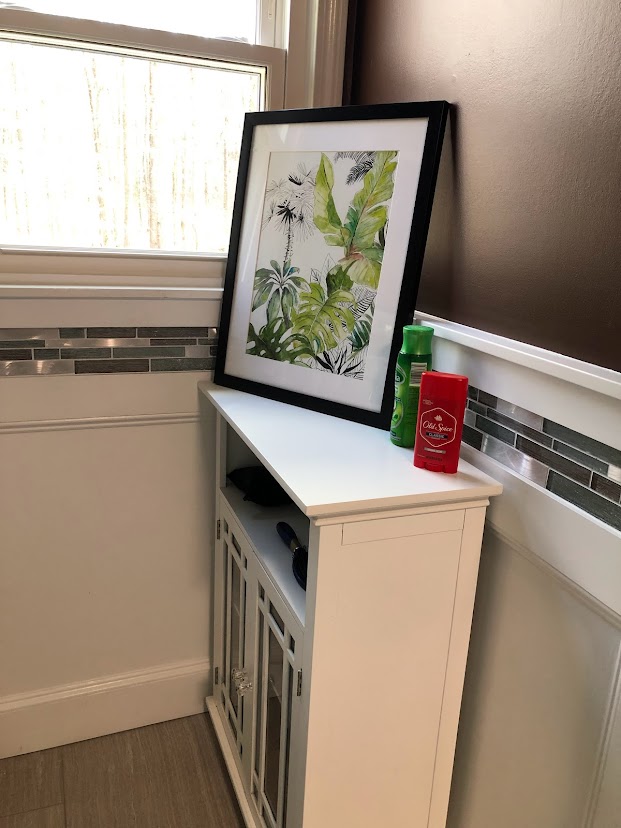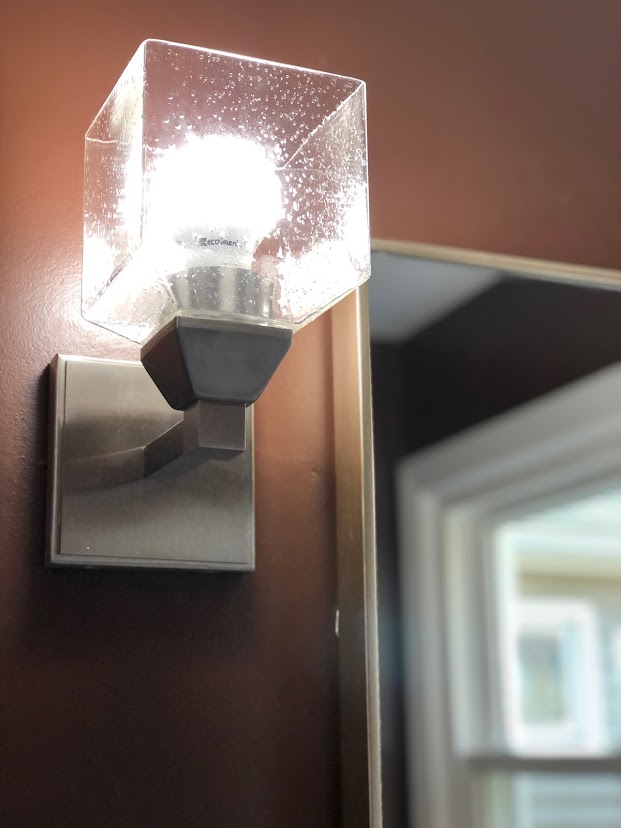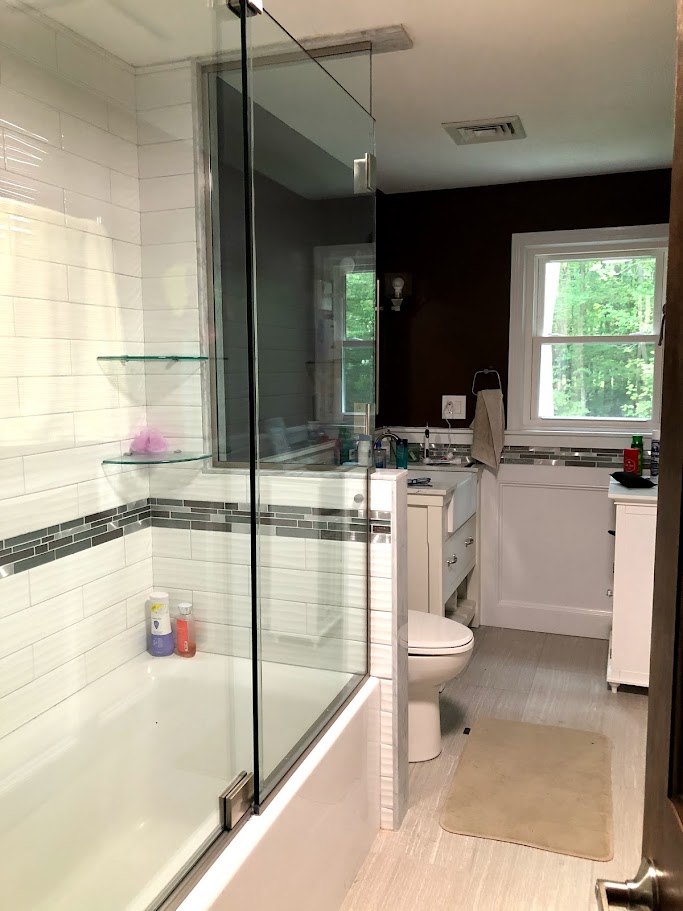 Some pictures from before the renovation...
---
Living Room Home Projects
The living room is the most important room in the house as it is the face. While the rest of you can be covered in layers of clothes or saunter in tank tops, your face is always open to the elements and open to scrutiny.
Similarly, the living room is where your guests spend most of their time. It is always open to scrutiny. So pay attention to the little details. Every living room should have comfortable and ample seating, but your character and your style shines through in the little knick-knacks you display here.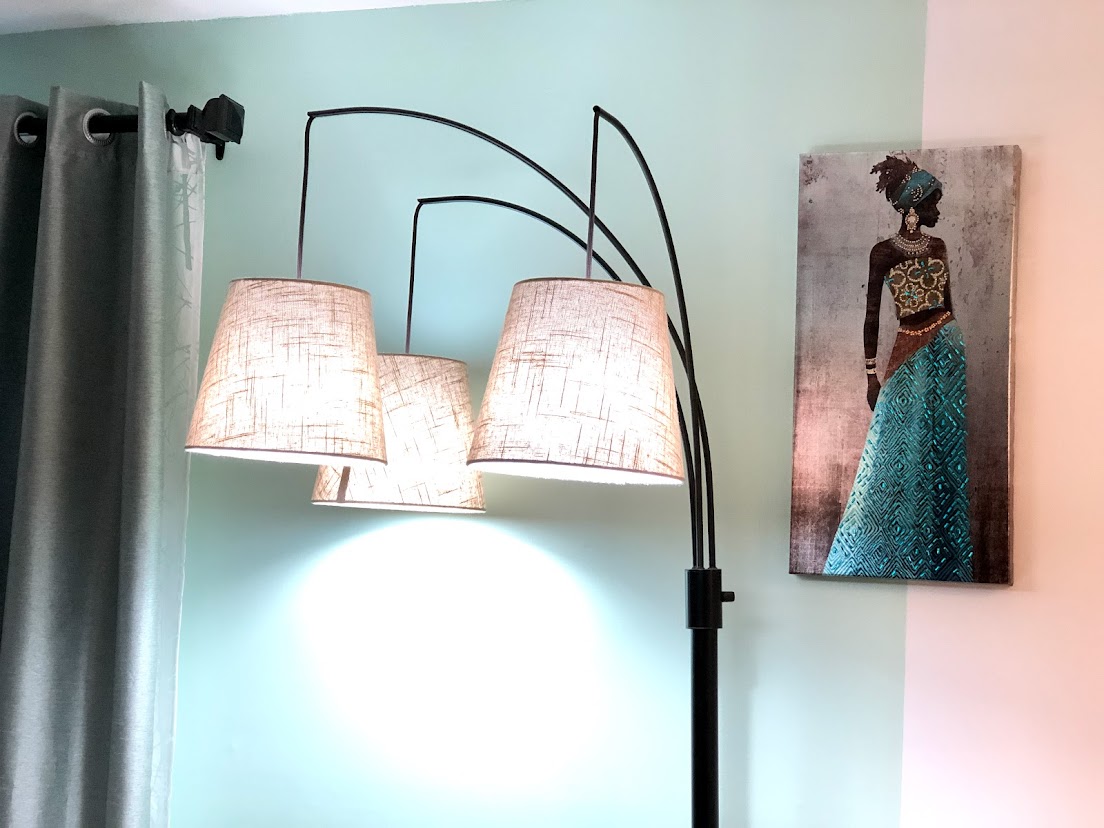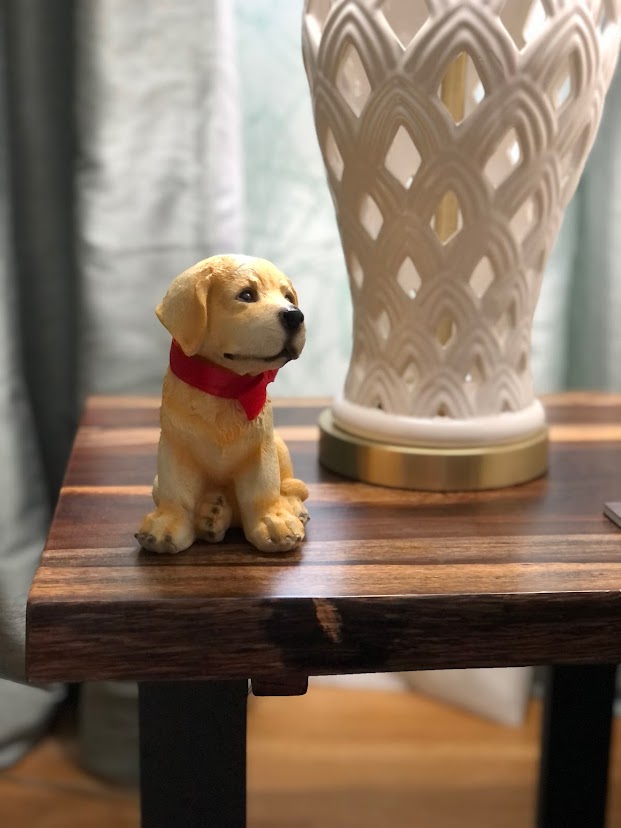 ---
A Home Filled with Color and Love
The entryway is like the introductory chapter in the book. It must pull the visitor in. Whether you like bold colors or prefer a more neutral palette, make your foyer / entryway warm and inviting.
I love to add texture (baskets, pouf) and greenery to every room.
With a pillow sweetly asking guests to 'Sit Down and Stay Awhile', wouldn't you say this is a home filled with love?
---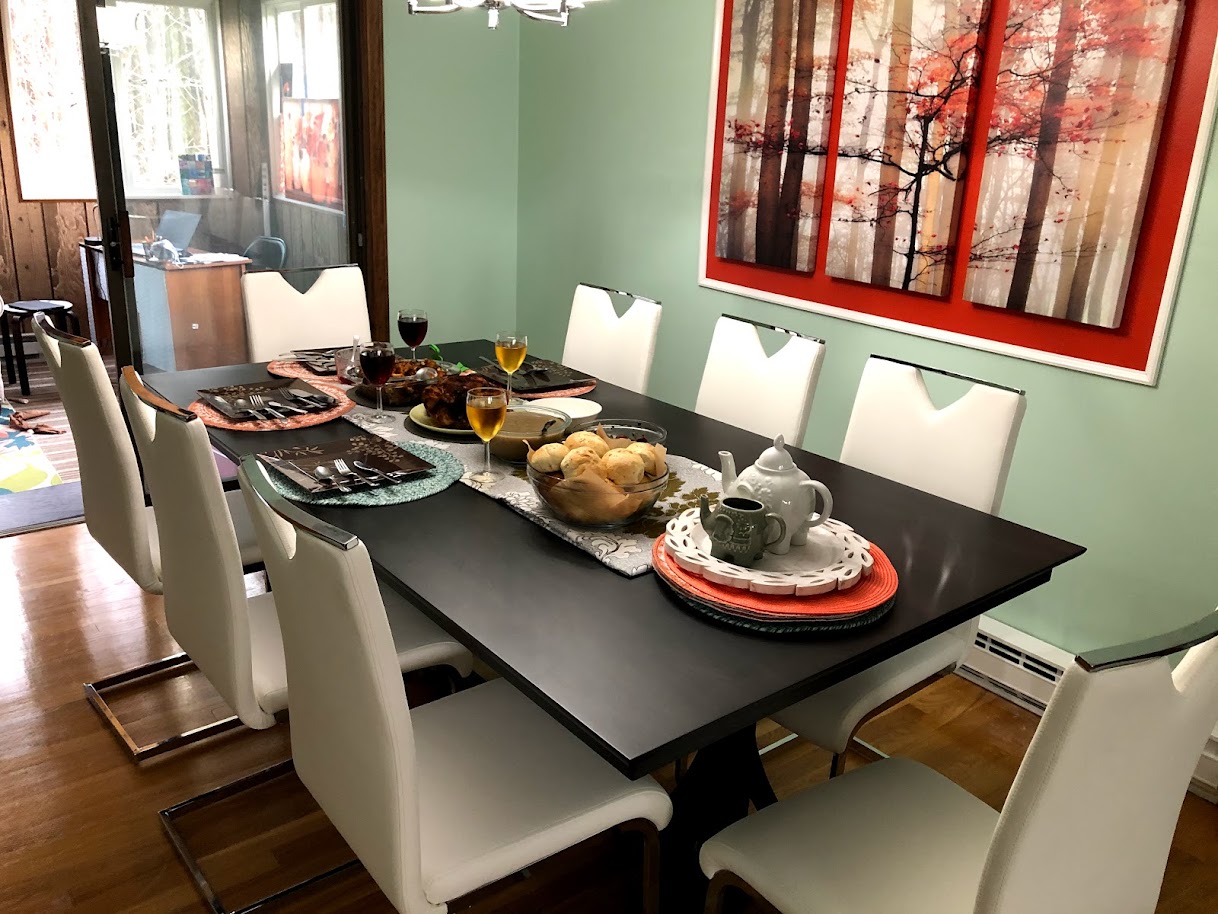 May your dining table be always filled with good food and your glasses overflowing with joy!
A beautiful solid hardwood dining table with more contemporary chairs in stark white, ensure that the artwork stays in focus.
---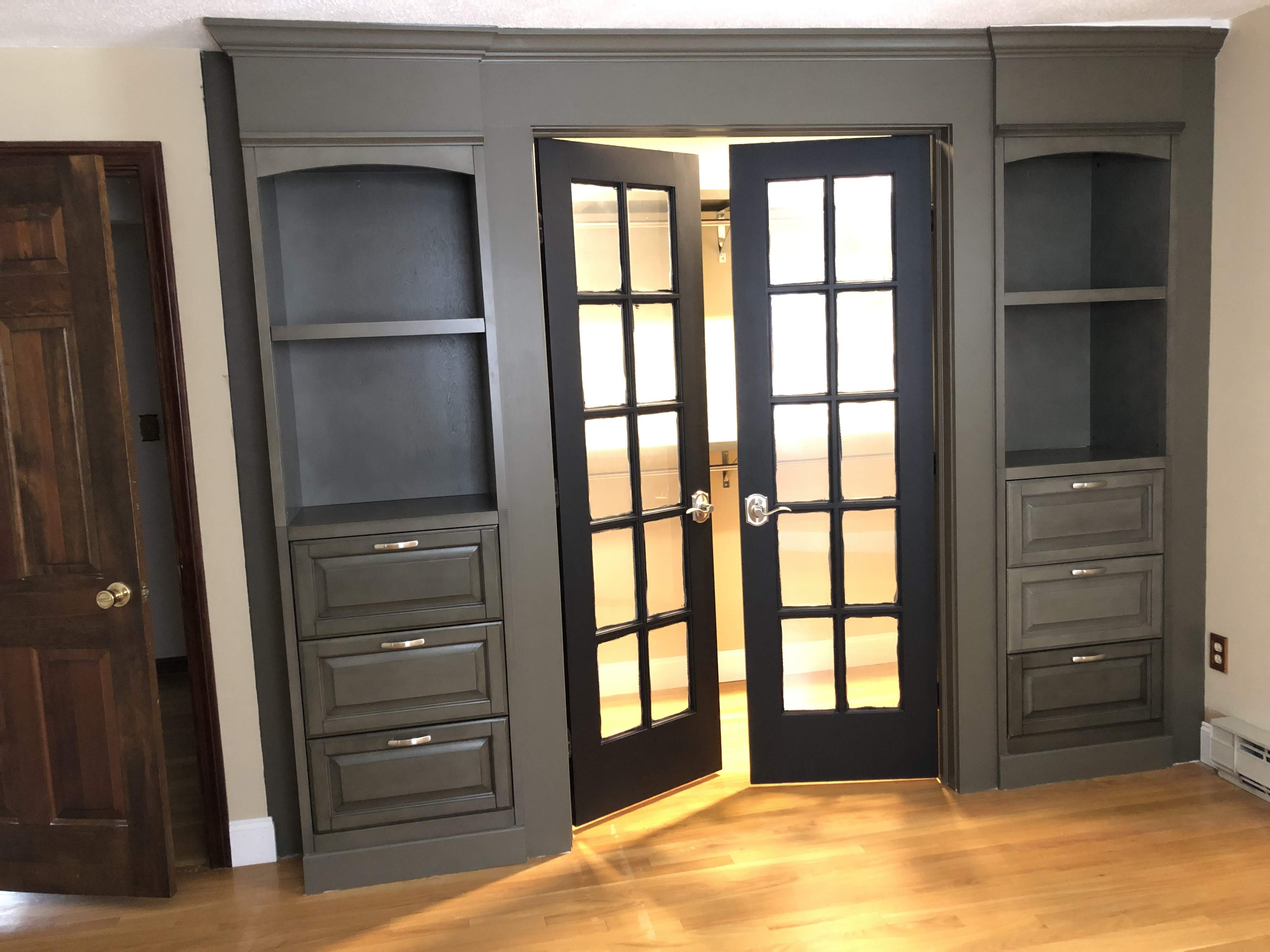 A custom designed walk in closet with beautiful French doors complete the master bedroom and allowed me to expand the en-suite bathroom (shown below). There is ample storage here with drawers, shelves and rows of poles for hanging clothes!
Functional and Glamorous.
---
Opaque shower door in the master bathroom allows privacy even when two are using the bathroom. And with a double vanity, two is company! The towel rod was specifically selected to allow both towels to hang in perfect harmony.
Soft closing drawers on the vanity and a sliding modern barn door also with opaque glass make for a silent oasis.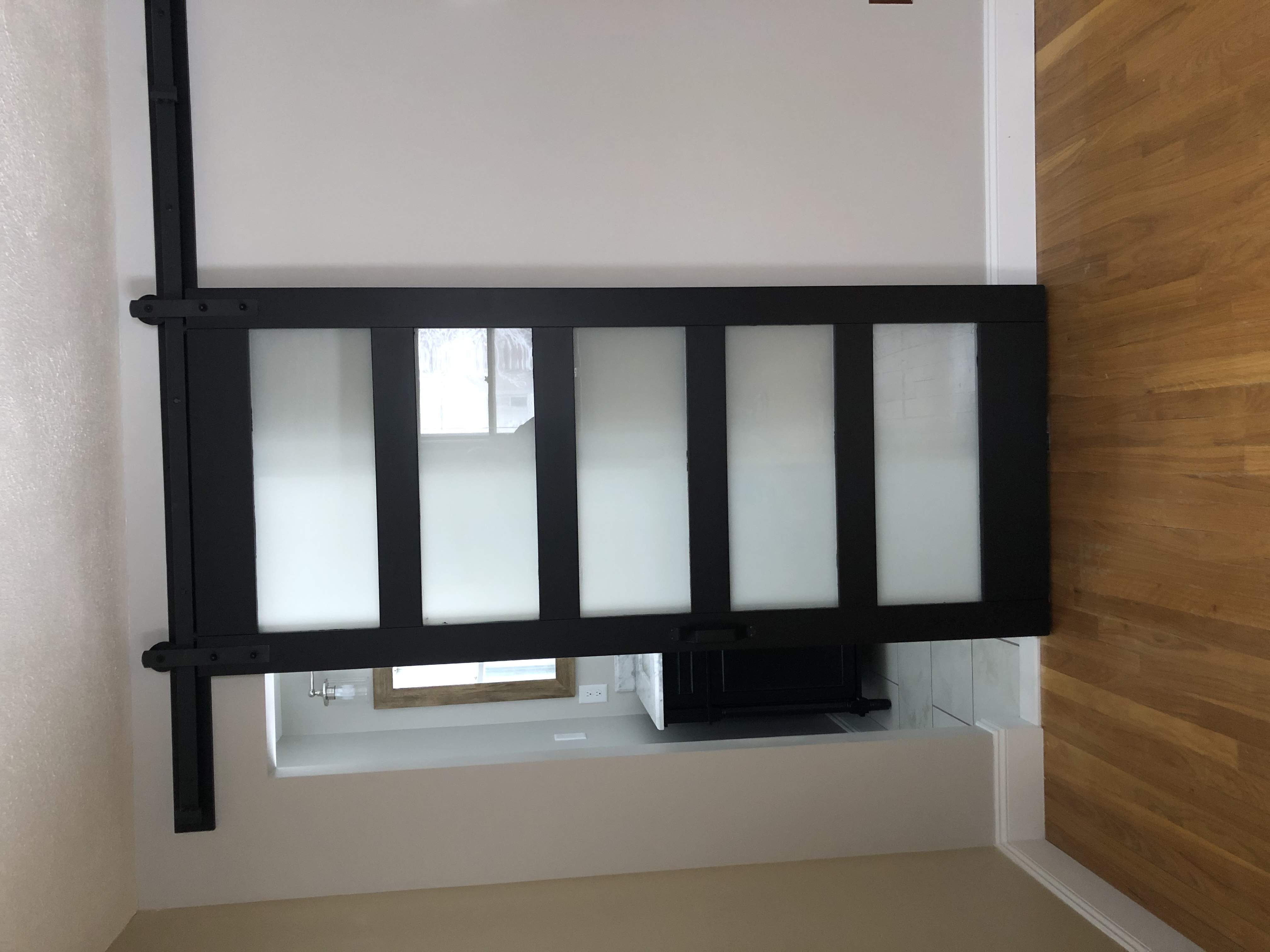 ---
I hope you enjoyed viewing and reading about my completed home projects. I have given you a little insight on how I came up with the ideas of my designs as well as the thought process behind some choices. 
As a designer , I am always striving to address the required functionality with a touch of glam and color. A space that works for all who live in it and use it; a home that is healthy and happy...that is the my vision for LushBerry Interiors.
If you would like me to design a space for you, email me at lushberryinteriors@gmail.com. Let's tackle your next home projects together!
---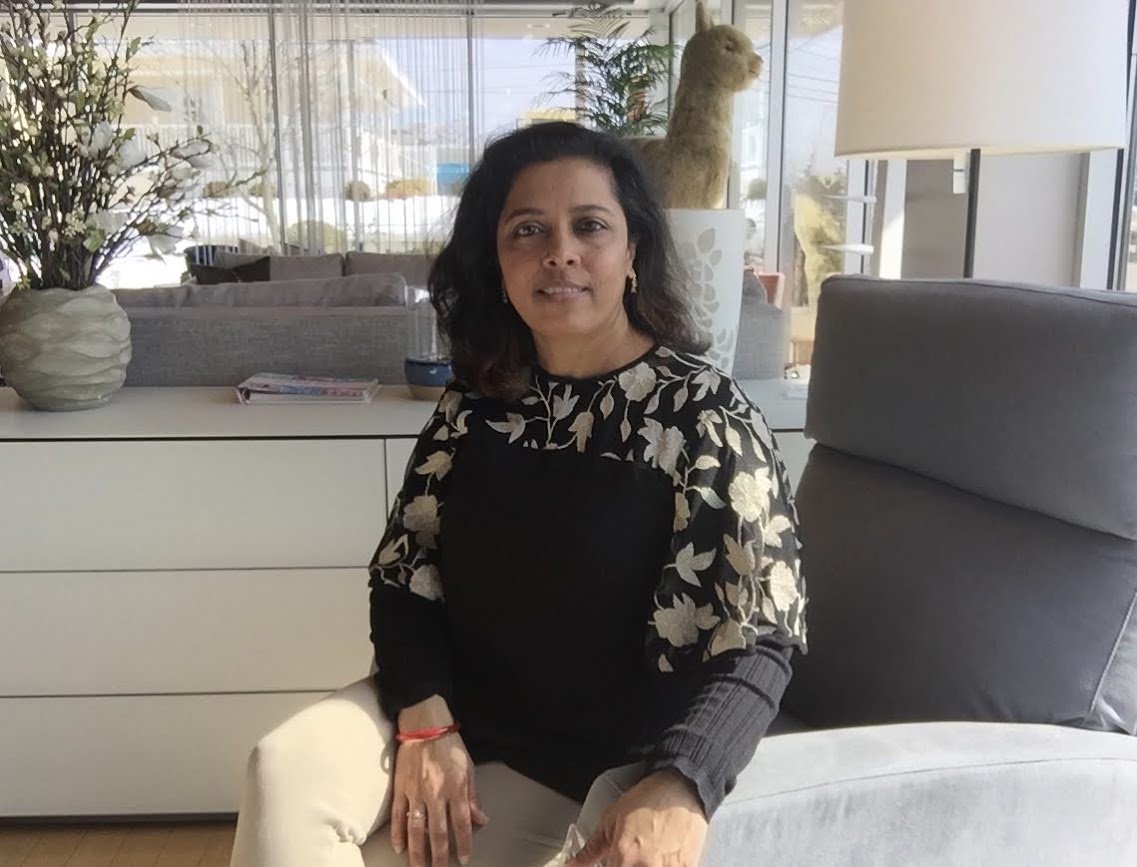 Hi, I am Richa and am super excited to see you here. I enjoy interior designing so much I went back to study it. Now armed with knowledge, passion and a vision to make 'happy homes', I hope this site will give you all the tools you need to make your kid's room happy too.   Read More...

---