5 Simple Habits to Boost Your Baby's Immune System, Naturally 
Grab Your Copy Today + Bonus

Your first paragraph ...

Did you enjoy this article? Was it informative? Tell us in a comment below.
---
Want More Decor?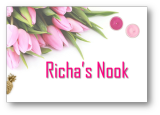 You can sign up for my free bi-monthly e-zine, Richa's Nook.
This is a great resource of ideas, information and a casual fun read to help you relax and unwind.
---