Hello. Thank you for visiting my site. Please bear with me as I update and secure this site so you can enjoy all the wonderful ideas to make your child's room ideal for him/her.

"Where can I find creative dorm room decorating ideas?"
"Does anyone have good dorm room decorating ideas?"
"I am looking for posters or art prints for my dorm room. Any suggestions?"
"What are some ways to transform dorm room furniture without it being permanent?"
---
Are you moving to college this fall and need dorm room ideas? Then this book is for you.
The most exhilarating part of moving into a college dorm (or an apartment with fellow students) is that this is your first step to independent living.
This is your space. This is your domain. Here, YOU RULE...at least in your corner of the room (if you are sharing with a roomie).
But if you are looking for dorm decorating ideas, you may have noticed that there aren't any.
Try as you might, you will not find anything new or different in the answers to your desperate queries.
"I thought this was alright advice, but I was looking for specific hints and tips... Lights are great and all, but i was hoping for more of the design prospect... plus this was the exact list of things on 4 other websites I've been to today; words and all." (random comment found on the internet)
---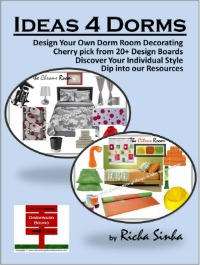 Buy Now @ $13.99
---
Repetitive and uninspiring advice is not the only problem if you are  looking for answers to your dorm décor dilemmas. Listen to this harassed mom troubled by the restrictions of dorm room living...
CAN'T...CAN'T...CAN'T
"My daughter is at _____ and you CAN'T remove any of the furniture, the ceilings aren't high enough to build a true loft. You can bunk the beds but it's tight. Concrete blocks aren't really toe friendly in the middle of the night. You CAN'T paint or really hang much on the walls without doing damage and losing your deposit...we squeezed in a task lamp and that's it. I don't think we even had space in the power strips for designer lamps after the laptop, printer, task lamp, cordless phone, hair dryer, phone charger, iron and whatever else is needed... Most of the dorm rooms don't have closet doors so you CAN'T hang anything over the door..."
Yes, most dorm rooms are tiny spaces overcrowded with essential furniture, two teens (heavens!), tons of friends dropping in and strict rules and regulations. This does not leave us much luxury of fancy dorm decorating ideas. But should this mean that we leave the room looking dingy, uninteresting and colorless?
Are you...
dingy, uninteresting or colorless?
Then why should your dorm room be? After all, it is supposed to reflect YOUR personality. Whether you are vivacious or languid; whether you are interested in music, sports or horses; whether you want to decorate your dorm room in perky florals, black and white modern designs or make a statement on eco-friendliness; your dorm room should mirror You.

Buy "Ideas 4 Dorms" Now @ $13.99
NO! You are spirited and full of life.
You are also leaving home and striking it out on your own for the first time in your life. Your head must be full of ideas and dreams of a bright future. Surely you anticipate a room with character. The new life will bring with itself many unknowns. It is worth investing some time and money on creating at least one haven you can relate to.
Ideas4Decor is here to galvanize your Dorm Room Decorating into fun and realistic actions.
What will you find in this book?
This book was not written to fill out page after page without actually answering anything. Instead we have created over 20 design boards. Yes, actual design boards to bring many different dorm room decorating looks together.
Here is a sample page from our book.

Buy "Ideas 4 Dorms" Now @ $13.99
And there is more...
All the decorating dorm bedding, rugs and other accessories used in this book are currently available in online stores. So these are all dorm decor that are definitely do-able. Most of them are very budget friendly too. For example, there are many area rugs in the color scheme of a room, but we have chosen only those that are either easy maintenance or easy on the pocket. Why the difference?
Because, YOU ARE DIFFERENT. Everyone has their own reasons for choosing their room accessories and depending on your individual choice, you can decide how much you want to spend on an item.
And there is more...
We have included an entire list of online resources from where you can get your favorite dorm bedding and other dorm room supplies beyond our designs.
The purpose of this book is to teach you how you can create the dorm room that you would be comfortable in.

Buy "Ideas 4 Dorms" Now @ $13.99
The design boards are merely samples of the many ways that you can decorate your dorm room. Under each design you will discover how we put the designs together. Once you learn the secrets, you will be designing your own college dorm without having to look anywhere for answers.
This is dorm room decorating at its best!
And there is even more...
At the end of the book you will have a checklist for all your dorm room decorating. It is yours to print, add items and budget before you finalize your purchase.
Now you can pull your own dorm room design together in a matter of minutes. Choose from one of our many designs, mix and match the various ideas or create something totally your own. You will be the master of your design.
---
Get the answers to all your dorm room decorating questions
...for just $13.99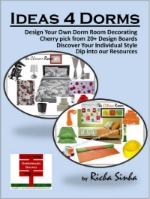 One of the most important lessons (taught by life) is to 'Own Your Life – Carve out your Destiny'. Start right away with our unique insight into decorating your dorm yourself.
We have kept the cost of the book low...wayyyy low.
On an average, students spend around $500 on their dorm room bedding and accessories. At $13.99, our book is priced at less than 3% of your average spending.
Are you willing to invest in a low cost book that will help you answer all your decorating questions? The answer is a no-brainer, don't you agree?
Buy This Valuable E-book Now with Paypal

Buy "Ideas 4 Dorms" Now @ $13.99
Your payments are safe and your information secure; as we only use Paypal to collect payments.
I hope you will find this book of immense value. I have spent a considerable amount of time and effort in research to find out what it is you are really looking for; and how can I present it in a way that is not overwhelming.
If after reading Ideas 4 Dorms you still have some questions for your dorm room decorating, do not hesitate to write to me directly.
Combine this book with our FREE Super Duper College Checklist; to create a complete list of all your Dorm Room Decorating supplies. You can find this FREE checklist on our web-site www.thisdecormom.com
I wish you all the success in your Dorm Room Decorating Project!
---
Did you enjoy this article? Was it informative? Tell us in a comment below.
---
Want More Decor ?
Let us find you the most delicious decor (reci)pix, hottest trends and mouth-watering decor items for you to drool over. Sign up now.
---
Return from Dorm Room Decorating Ebook to Home Page