Hello. Thank you for visiting my site. Please bear with me as I update and secure this site so you can enjoy all the wonderful ideas to make your child's room ideal for him/her.

Baby Cribs and...
Other Crib Furniture
Too many baby cribs to choose from? Find the right crib furniture.
---
The first precious months of your baby's homecoming are spent sleeping or lying down.
Thus, the baby's crib furniture becomes the centerpiece of your nursery. The cribs need to be comfortable, eye-catching and above all, SAFE. Hey, you already knew that!
Sure, we all know what our baby needs. What we want to know is how do we go about providing it to him. Right?
You've been waiting for this moment since you found out about the baby, haven't you? This moment, when you actually purchase that baby crib...which suddenly makes it all so real. It's as if your baby was already here. So exciting!
---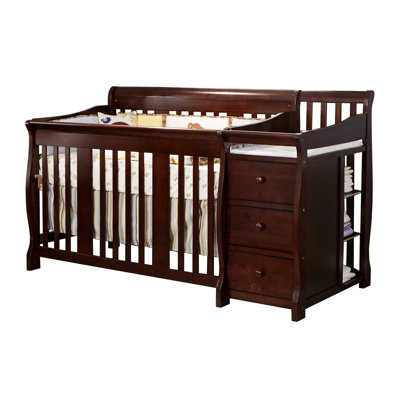 Portofino Fixed Side Convertible Crib Changer Finish: Espresso
---
You'll probably end up spending hours staring at the empty crib envisioning your new baby in there.

You rush to the baby store knowing exactly what you are looking for…and then you see them!! This one looks great...oooh, just look at that one...hey, that's just perfect...Oh! But I like that one too.
So many baby cribs to choose from, they can truly make your head spin. Now what?
Here we will break down the different types from canopy cribs to co sleepers, so you can better decide the baby bed that is just right for your little one.
---
1. Traditional Cribs
Cottage Verona Crib
This could very well be the type of crib you grew up in. The Traditional cribs do NOT convert into toddler beds. But if this is the first of more babies you have planned for the future, the traditional crib probably works best.
With great craftsmanship, these baby cribs easily become the focus of attention. These cribs combine the look of a family heirloom with today's safety features.
---
2. Convertible Cribs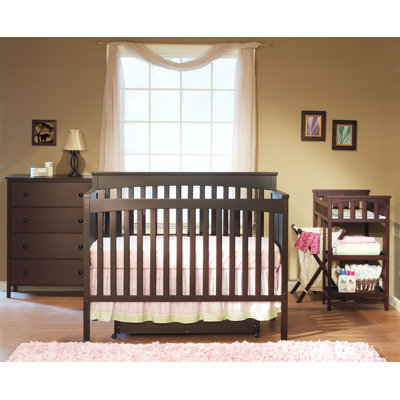 Petite Paradise 4 Piece 2-in-1 Convertible Crib Set Finish: Cherry
In this age of multi-tasking, crib furniture has also undergone an interesting change.
Convertible cribs start out as standard cribs and later can convert to toddler beds. Some even convert to daybeds or full sized beds that can be used in a teen or guest room.
Learn more about the Convertible Baby Crib.
Remember to check if the conversion kit comes with the crib furniture or purchase it along with the nursery furniture set at the same time.
---
3. Unique Cribs

Nurseryworks Vetro Crib
If price is of no concern to you, or if this pricey crib comes within your budget...here is a unique piece of crib furniture that is sure to WOW your friends and family.
Crafted from non-toxic and Lucite with recyclable and clear acrylic, and having beautiful curved edges, the Vetro crib even converts to a toddler bed!
---
4. Crib with Storage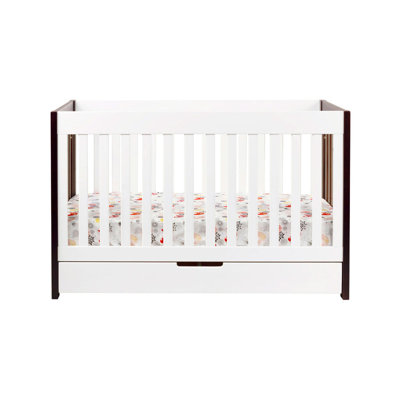 Mercer 3-in-1 Convertible Crib Finish: White / Espresso
We all know that with the arrival of a baby come the inevitable baby accessories - the diapers, wipes, burp cloth, onesies, toys...just to name a few.

A crib with storage space whether under the baby cribs or on the side such as this Portofino 4 in 1 Fixed Side Convertible Crib Changer, help you keep everything exactly where you can find them.
---
5. Canopy Crib

Storytime 4 Poster Crib
While this Storytime 4 poster crib seems a trifle overdone (if you are not the extra ruffles kind of person), the canopy crib does give a more exotic touch to the baby nursery.
You will need to ensure that the canopy material stays out of reach of the baby. Try to find a canopy crib wherein the canopy maybe removable.
Most canopy crib are available in iron.
---
6. Round Cribs

Star Light Round Crib
Round cribs do look amazing. Many parents prefer them today as there are no sharp edges to it. They also take centerstage in the nursery.
Be sure to buy the round crib mattress and mattress protector as well.
---
7. Co Sleeper

CO-SLEEPER ® Sleigh Bed
You want to be next to your baby while he sleeps but you know that he can't sleep with you. It's too risky. Get yourself the CO-SLEEPER. One side of this crib is open and attaches to your bed. Wheels allow you to move it around and it even converts to a Loveseat once he grows out of it.
---
8. Portable Cribs

Tian Portable Convertible Crib Finish: Black
These cribs are generally less expensive. They are easy to carry as they can be collapsed and put back quickly. They may not have all the standard features of a traditional crib.
Portable cribs are great for grandparents, who can fold them away when the grandkids are not visiting. They are also a great solution for home day cares.
---
9. Playpens

Graco Pack n Play
Similar to the portable cribs, they are very convenient and comfortable for the baby. A toddler could stand in it and would not fall over.
Some of them have bassinets that can be hung at a higher level for younger babies. Once they start standing, you have to do away with those.
Some additionally feature a soft changing mattress that also attaches to the playpen, thereby saving space in the room.
---
10. Eco Friendly Nursery Furniture Sets

Oeuf Elephant Crib, White
Made with environment friendly MDF made of recovered wood fibers, non toxic finish, the eco friendly crib furniture is growing in popularity. 
The 'Elephant' featured above is a beautiful crib that can be assembled in 10 minutes without any tools.
Add eco friendly crib mattress and this organic cotton baby bedding to complete your green nursery.
---
"I already have a crib."
Do you already have a crib, either from an older kid or borrowed from a friend? 
Clean it thoroughly. 
Wooden cribs could show some wear and tear from previous use. Check the wood for splinters or cracks. You could also re-paint it to match the nursery theme. Use stencils to paint on exclusive designs and give the crib a more decorative look.
There are important features of baby cribs that need to be checked prior to the purchase. Read them carefully and note the dimensions mentioned. There are also some decorative features that can be added. But these are optional.
---
Did you enjoy this article? Was it informative? Tell us in a comment below.
---
Want More Decor?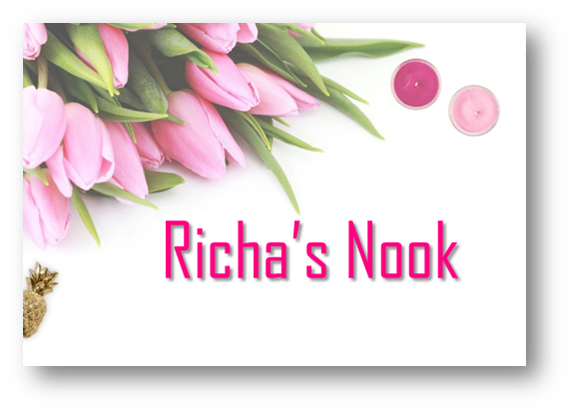 You can sign up for my free bi-monthly e-zine, Richa's Nook.
This is a great resource of ideas, information and a casual fun read to help you relax and unwind.
---
Return from Baby Cribs to Kids Furniture
Return to Decor Mom's Home Page