Hello. Thank you for visiting my site. Please bear with me as I update and secure this site so you can enjoy all the wonderful ideas to make your child's room ideal for him/her.

Girls and Boys Bedrooms
...Where Do I Shop?
Shopping for your boys bedrooms can be exhausting. Here's our shortlist.
---
* You have decided to re-decorate your kids bedrooms and would like to add bunk beds for kids growing older.
* You are expanding your family and need to fill your nursery with the perfect baby stuff.
* Your son is heading for college and needs good deals on dorm room bedding.
Whatever the scenario, when it comes to the nitty-gritties of shopping for the essentials and the luxuries, CONFUSION REIGNS SUPREME.

Your fabulous bedroom themes need time, money and patience to come true.
Naturally the world wide web of online stores beckons as you can browse any number of nursery beddings, teen bedroom furniture, storage solutions and more with simply a click of a button.
This page has been created to help you sort through the ginormous list of online stores. Depending on your budget, shop for bargains as well as pick up some unique luxury items to mix and match and create that unique bedroom.
These are some of our receommended stores:
Wayfair
We recommend Wayfair as a one-stop shop for all your girls and boys bedrooms needs. With over 5000 brands on offer, reasonable prices and just about every bedroom theme you can conjure, you are sure to find something worth buying here.
---
Target
A brand that needs no further introduction, Target.com caters to your budget without compromising on quality. Their prices are very competitive and they often have exclusive labels.
---
Amazon
Another name that speaks for itself. Amazon has been adding products such as Kindle Fire and giving competitors in every field a hard time. You can expect the best bargains here and a large variety too.
Exclusive Kids and Baby Stores
Land of Nod
Everything for your kids room can be found at the Land of Nod. If you enjoy a good read, head on over to their 'About Us' page, it is very well written.
---
aBaby
An exclusive boutique, aBaby offers beautiful customized furniture pieces and unique decor not found easily.
---
Our Green House
You will be amazed at the variety and quality of eco friendly products you can get for your home and, especially, your baby.
Dormify
Dormify breaks the rules of traditional dorm decor with a fashion-forward approach to styling small spaces. They create and curate exclusive products specifically designed for fashion minded college girls, merchandising them into easy-to-shop looks to make decorating stress-free and fun.
---
Discount School Supply
A company that creates its own unique  products as well as offering popular brands, check out Discount School Supply to instantly fill out your school checklist.
---

DormCo
DormCo is the leading retailer for college dorm essentials. When shopping for college stuff, dorm bedding or any accessories for your dorm room in general, turn to DormCo.
Wall Decor and Accessories
Roommates Wall Decals
Need a quick way to update your boys bedrooms boring blank walls? Or change the look of the room to his current favorite without breaking the bank? RoomMates Wall Decals are fun, easy to apply...and best of all, they have the latest designs.
---
BirthdayExpress
Believe it! Birthday Express not only offers a grand selection of birthday party themes, but they also have this amazing collection of giant wall decals that make decorating the girls and boys bedrooms a treat.
---
Decorative Ceiling Tiles
A husband and wife team have made it big in this very niche market. We especially love the Decorative Ceiling Tiles faux leather tiles - they would look awesome in young teen girls or boys bedrooms.
---
The Ultimate Green Store
As the ultimate web-based destination for eco-conscious shoppers, The Ultimate Green Store provides a collection of many of the finest environmentally friendly products for you, your home, office, kids and even your pets!
---
Magic Murals
There are companies that sell murals and then there is Magic Murals. You can spend hours just looking at all their amazing murals. Deciding the one for you will probably take some time!
Specialist Stores - Beyond Decor
Little Passports
Little Passports is your child's ticket to an exciting global adventure. With a click of a button, your child gets a better understanding of the world. Check it out for yourself.
---
Tiny Prints
Whether you are making birth announcements, sending out birthday invites or celebrating with holiday cards, Tiny Prints has a huge selection of cards or you can custom make your own too.
---
FreckleBox
What a cute name and such adorable personalized gifts for kids of all ages! If you are looking for unique, personalized and AFFORDABLE gifts for the young ones, Frecklebox is where you need to be.
---
ISeeMe Personalized Books
Another husband-wife duo have got it right! If you are looking for high quality personalized children's books, your quest ends here. ISeeMe Personalized Books are educational, fun, and award winning - all this AND personalized with your child's name.
Argos - Virtual Mall
A market leader in all things retail, Argos is a familiar name in the UK.
Shop for all your and your children's needs under one roof. 
---
Laura Ashley
A name than needs no further introduction, you can now browse online for all their furniture collections and have your order delivered at home. Aah! the pleasures of the Internet Age.
---
Homebase
If you are looking for the complete solution including flooring, lighting, the tools to diy and decorating, Homebase is the place for you. They offer many discounts, so keep your eyes peeled.
---
Return from Boys Bedrooms to Decorating Ideas Home Page
---
Did you enjoy this article? Was it informative? Tell us in a comment below.
---
Want More Decor?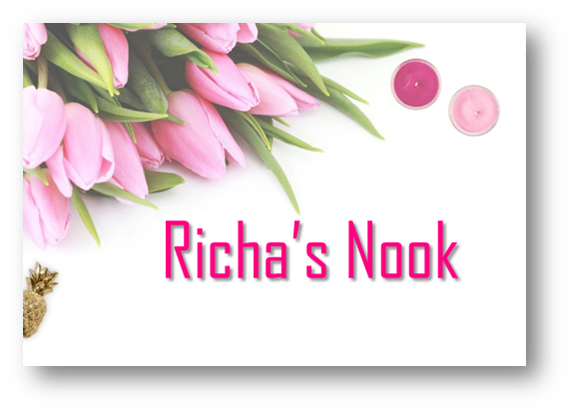 You can sign up for my free bi-monthly e-zine, Richa's Nook.
This is a great resource of ideas, information and a casual fun read to help you relax and unwind.
---