Hello and welcome to a new edition of Kids Room Alerts.
There are no passengers on Spaceship Earth. We are all crew. ~Marshall McLuhan, 1964
I start this month's issue with a quote that I just fell in love with. I think I will turn it into a poster and hang it in my living room for friends and family to read too.
We are all in this together and so have to work together and do our bit for the safe future journey of Spaceship Earth. One simple way is to recycle and reuse old wooden furniture. Instead of throwing away the old, broken and dusty pieces, give them a new lease of life with some simple tools and cans of paint.
Summer is upon us and many of us will start visiting yard sales. Many of us will also be hosting the yard sales to get rid of all the junk the spring cleaning brought out. Before you decide on what to buy and what to bypass; think "recycle furniture".
If re-decorating the kids room is one of your summer projects, you will do well to keep an eye out for other people's trash, for it could mean a great bargain for you! Lokate of Oakland, CA reveals how in her very interestingly written blog.
Spring is in the air. Bring the vibrant season indoor and keep it all year long by decorating your child's nursery or room with butterfly decor.


Notice our latest feature? We have now added AMAZON.com to our amazing list of partners. All our latest pages have related links to Amazon for easy access. We will be updating other pages as we go.


Dinosaurs are every little boy's best friends. Check out our design board for a creative ideas on decorating with this theme.


Mothers Day just passed us by. I celebrated by honoring my mom with a poem I created. Read it on my blog. Share your Mother's Day celebrations with us.


An inspiring Black and White zebra themed room that your teen will fall in love with.
We present the Magazine Moments of these proud moms. Visit their individual pages and add your compliments to their superb efforts.
Virginie of Montreal, Canada - - shares her unique and bold take on the nursery.
A bedroom dresser is an important piece of furniture in the kids room. In the nursery, it could serve as a changing table. And of course the storage aspect is invaluable to every parent. Do you have a sorry looking dresser and don't know what to do with it?
Here is a step by step guide to help you refinish it in a style all your own.
[If you do refinish one of your own or have an easy tutorial for another project, remember to share it with us...and you might find yourself featured in our next e-zine issue! Simply email us at Kids_Room_Alerts@thisdecormom.com]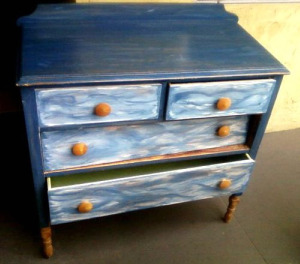 Remove the drawers and knobs of your dresser.




Sand the dresser vigorously. Start with an all-purpose medium grit, like 100. Make sure you get the glossy finish off. This will help the primer stick. Even if your dresser has already been painted and you aren't starting with wood, a sanding will give you a nice, clean surface to start from.


Since sanding can be messy business, you must do it outside. After sanding, remember to use a tack cloth or a slightly damp towel to remove all of the dust. This is a vital step so do not scrimp here.


Primer is primary. Always start with a primer and make sure it is of good quality. Allow it time to dry.



Paint colors and designs will depend on where you plan to use the dresser. If it is in the kids room, a semi-gloss paint will make future stains easy to remove. You can use vibrant colors and stencil in the theme of the room or your child's name, etc.


Change the knobs to a more fun and kid friendly design. You can also paint the inside of the drawers or stick colorful paper.



If the dresser is in no shape to be re-used, simply remove the drawers and create a novel bookcase. Just remember to secure them well to the wall so they will not tumble down unexpectedly.

Being environmentally conscious is not an option in today's world; It is a necessity. Guide your children in the direction of eco-preservation and help them understand its importance. After all the new three 'R's we need to teach our kids are: Reduce, Re-use and Recycle. This book gives them a good head start.

With easy to do crafts, your child will develop a love for recycling. It will also give his imagination wings as he learns to see potential beyond the obvious. Nurture this attitude from a young age by gifting him this book. At a mere $7+, it is a good investment.

Get your copy of EcoCrafts Dream Bedroom: Use Recycled Materials to Make Cool Crafts today.

Is there something specific that you would like to see on our site or in our e-zine? Tell us what you like and do not like (really?) about our site. Contact us and make your voice heard.

If nothing ever changed, there'd be no butterflies. ~Author Unknown





New!

Comments Was there something special on this page that you loved? Then, leave me a comment in the box below. (Please remember this is a kid-friendly site.)