Hello and welcome to a new edition of Kids Room Alerts.
April is the month of Spring Break and Easter Bunnies; a time to soak up some sun; to surround yourself with color! So naturally our thoughts went straight to the wonderous and colorful world of kids.
- Notable Topics/Features
- A New Decorating Trend 2011
- Partner News
- A Great Find
- Ask the Editor
- Quote to keep you going
Just like old traditions, old decorating trends keep returning. Only this time they are better and brighter. One such trend is 'Wallpaper'. With everyone asking 'are wallpaper designs in – or out?'; we decided to meet the question head on.
And we discovered that Wallpaper is Back with a Vengeance!
Creating magic in the kid's room is all about inspiration. The one room in your house where you could just splash paint all over and call it 'inspired'! The Internet is all abuzz with tons of kid room ideas – from nursery decorating to teen bedrooms, you can find them all here.Find out more...


This is a fun, quick and easy way to cover the imperfections in the wall as well as bring the room to life in an instant. If you are wondering whether the wallpaper trend is in or out of fashion - remember, thisFind out more...


Isn't this the most exciting part of decorating the nursery? You could go through seas of catalogue pictures of divine baby bedding sets; look them up online; visit baby specialty stores. You can never tire of looking at them. This truly is one of the FUN activities. Find out more...
For the latest deals and discounts don't forget to check out our blog, or our Daily Deals section.
A New Decorating Trend in 2011…or is it?
Wallpapers became popular a very long time ago. They were a simpler, easier and quicker way to perk up a room. Perhaps people went overboard with the idea. Soon it became so commonplace that having wallpaper on your walls dated not just your house but your decorating style too!
But Wallpaper designs have made a comeback. Today you can find cool wallpapers for teen rooms, cute wallpapers for nurseries and everything in between. There are even some amazing patterns for other rooms in the house.
Moreover, you can improvise and stick the wallpaper to your dresser, laundry basket or lampshade to complete the look. In short, wallpapers are IN and looking better than ever before. Check out our full length article for some amazing wallpaper designs and patterns.
One of our favorites with not just a large variety to choose from but prices that make us smile; Steve's Blinds and Wallpaper - Get your favorite look in every room in the house. Splurge with Free Shipping on all Wallpaper Orders.




Target is a brand that needs no introduction. Another fabulous offer from Target - Shop For Mom + Get Free Shipping on $50 Purchase on Select Items.




AllPosters has some amazing deals going on just about every other day. Check back with them regularly, so you don't miss out.

Books are an invaluable resource for information and inspiration. Here is another great example.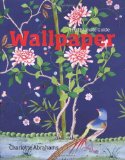 Wallpaper: The Ultimate Guide
by Charlotte Abrahams.
Charlotte Abrahams is a freelance style writer specialising in design and interiors. Charlotte's art school background means that she combines a flair for journalism with a keen eye for design. Her position as a well-established and highly respected design journalist means that she is often asked to sit on selection panels and work with the organisers of design shows. Her book, Wallpaper: The Ultimate Guide
, is an excellent coffee table keeper.
This newsletter is our way of getting to know you better. Do you have any creative decorating ideas to share? Is there something specific that you would like to see on our site or in our e-zine? Tell us what you like and do not like (really?) about our site. Get in touch with us and make your voice heard.
Dreams are illustrations... from the book your soul is writing about you. ~Marsha Norman
New!

Comments Was there something special on this page that you loved? Then, leave me a comment in the box below. (Please remember this is a kid-friendly site.)