Hello


Find Your Inpiration! Unleash Your Creativity!

source:goodhomedesign.com
I love the abundance of color in this room. The nesting bed concept would work great in a small room. Although I am not sure the closet or the tiny table shown here would be adequate for 3 kids.
Here's what drew me to this room. Most of the wall-to-wall carpets I pictured in my mind were a neutral color that kind of blends into the room.
This beautiful carpet of green grass along with the lovely flowers painted at the bottom of the wall give the room an outdoorsy feel. It's like Eternal Spring.
Makes for a happy room, don't you think? I can picture kids happily playing for hours in this room.
I would probably add glow-in-the-dark moon and stars to the ceiling. That would complete the outdoor theme of this room.


source:designertrapped.com
Hats off to the Crazy Craft Lady, Aimee for her ah-mazing Pottery barn inspired Halloween Knock Offs. She shares her journey to creating the perfect Halloween entryway with us.
Thank You Aimee.
There's more than one tutorial but this adorable spooky Mummy pillow has to be an all time favorite.
While I greatly admire all the Halloween décor enthusiasts put up every year; I am a sucker for the cute and adorable… as opposed to the freaky and scary.
As you can guess, I hate horror movies, haunted houses and spooky hay rides. I would rather have adorable trick-or-treaters knocking on my door.
Happy Halloween, y'all!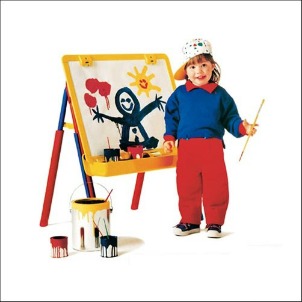 source:ababy.com
Grow Along Easel!
This award-winning easel actually grows with your child, as it is adjustable to four height positions. Between the four different play options, including chalk, dry-erase markers, paper and magnets, your child will use his creativity to keep himself entertained for hours at a time.
The Grow Along Easel is made in the USA, folds for easy carrying/storage and is currently eligible for Free Shipping.
This product contains an affiliate link.
---
Have you checked out our latest articles:
* Mermaid Room Decor: Splish. Splash. Dive into the magical underwater world of King Triton (of Little Mermaid fame) and play with the mermaids. This playful theme is a perfect setting for girls of all ages.
* Mural On The Wall - The Reveal: Are you ready to see what is up on my dining room wall? This project has been a long time in the making. But it is finally done and I am quite happy with the results.
---
This newsletter is our way of getting to know you better. Do you have any creative decorating ideas to share? Is there something specific that you would like to see on our site or in our e-zine? Tell us what you like and do not like (really?) about our site. Get in touch with us and make your voice heard.