Hello


Find Your Inspiration! Unleash Your Creativity!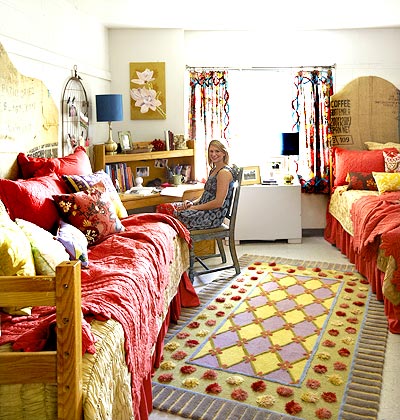 photo: afinelinetucson.blogspot.com
Here's a dorm room that is sure to inspire you.
What do I love about this?
Mostly the bright and vivid color palette. It's no secret that I LOVE color. That is why from the millions of dorm photos floating around the virtual world, this is the one that caught my attention.
The asymmetry of this room speaks to my aesthetic sense too! Most dorm rooms do an identical layout for both roomies, but putting the bed against the window for one and the desk for the other just gives the room a more open feel, don't you think?
Angling the rug adds to the asymmetric feel but still keeps the balance in the room.
The DIY burlap covered headboard, is not my style though. I would have preferred this headboard instead. The muted colors keep attention away from it and allow the more vivid hues to take over, but still give the room a nice polished look.

Keeping in the theme of dorm room decorating, I went through many, many diys that I thought would give you some valuable ideas and while I found some ideas here and there, there was no one place that provided true value.

That is until I came across this video on Youtube posted by Buzzfeed Nifty. She pulls together a very feminine but fun dorm room look and offers some great tips as she takes us through the process.

Hope you enjoy and pick up some tricks to add to your dorm room. I especially liked the sheer curtain with fairy lights doubling as headboard as well as the quick and easy change up from ugly sofa to warm and welcoming.

You can watch all these dorm decor diys unfold.
---
Have you checked out our latest articles:
* Baby Bath Challenges: Need fresh ideas how to get your baby or toddler from screaming during bath time? Then this is for you.
* Create this look: This picture on my shared room page has had the most hits. We bring you help recreate the same look in your nursery.
---
This newsletter is our way of getting to know you better. Do you have any creative decorating ideas to share? Is there something specific that you would like to see on our site or in our e-zine? Tell us what you like and do not like (really?) about our site. Get in touch with us and make your voice heard.