Novelty Clocks - My Wensday Toy Bin
Novelty Clocks and Other Timepieces

---
Jan 27, 2010
Hi,
I have recently been trying to teach my kids the concept of TIME. And if you have been through the process, you know how exhausting that can be. With thoughts of Time on my mind, I browsed around to see how the clock manufacturing industry had been doing and found some fascinating stuff.
We already know that there are clocks to cater to the theme of the room. Like this Rainbow Clock.
OR this super adorable Owl clock
For a more traditional room, you can find color coordinated ones like...
And then there are those who want something different, 
Considering a nautical theme? try this one for that little something extra...
I do so love handcrafted cuckoo clocks too
And how about one that has a vintage look and feel...
I did finally find one that teaches kids to tell the time. It's called Learning Resources Talking Clever Clock.
As I think more about Time and why kids just don't get it...I think, maybe it is us adults who 'just don't get it'. We are so hung up on time and schedules and routines, that we forget that sometimes we need to dump the clock and simply enjoy the moment. Just as kids do.
Reminds me of a book I had read some time ago. Titled 'First Things First' by Stephen Covey. To quote "In describing what is in effect a life process of principle centered living, the book begins with a compelling analogy of the clock and the compass,

"Our struggle to put first things first can be characterized by the contrast between two powerful tools that direct us: the clock and the compass. The clock represents our commitments, appointments, schedules, goals, activities - what we do with, and how we manage our time. The compass represents our vision, values, principles, mission, conscience, direction - what we feel is important, and how we lead our lives. The struggle comes when we sense a gap between the clock and the compass - when what we do doesn't contribute to what is most important in our lives".
Happy Decorating,
Richa
ps. Remember if you have any new projects or questions, you can share them with us. Write to us through our Contact Us form or through any of the other forms we have scattered around the site.
---
Did you enjoy this article? Was it informative? Tell us in a comment below.
---
Want More Decor?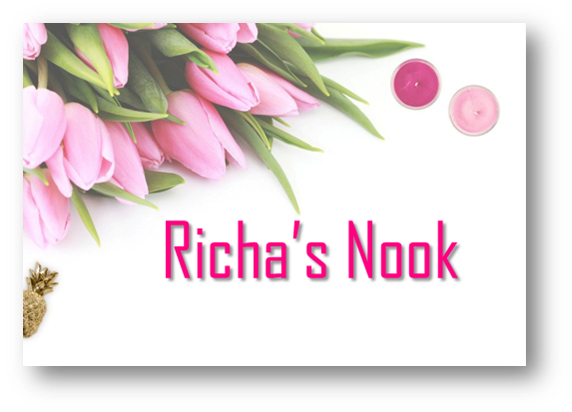 You can sign up for my free bi-monthly e-zine, Richa's Nook.
This is a great resource of ideas, information and a casual fun read to help you relax and unwind.
---