How to Projects
...Do It Yourself Projects
Tried any 'do it yourself' how to projects? Let's share our successes and travails.
---
One of the most precious gifts that the Internet has brought us is to show the immense talent of diy-ers. (I know that is not a word…yet; but that is the perfect description).
Whenever I come across some before and after photos of dirty and dusty dressers or desks transformed to things of beauty; I simply feast on the detailed description and dream of myself producing such gorgeous results. It's flea market decorating at its best!
The way these do it yourself projects are shown, they look like easy crafts to do.
But I have never had the courage to actually try it myself. What if I spoil the thing? What if it looks horrible? What if the result doesn't last?
So this week, I decided enough is enough. It was time to get my hands in the dirt and start digging into my latent talent and find out once and for all whether I can deliver the goods or not.
I mean, we learn from our mistakes, right? So what if I made a mistake once in a while. I would learn from it and move on.
So, here is the first installment of my diy-projects. This week I tackled a bookcase that a friend was getting rid.
I wouldn't want to be alone in making mistakes here though. Did any of your diy projects did not proceed the way you wanted them to. Do you have suggestions on how to undo mistakes or tips for avoiding them?
Let us create a DIY Network where we can all discuss, recycle, create, imagine new do it yourself projects.
Are you a diy-er in the making? Do you have tons of how to projects showcased around your house? Maybe you have your own blog?
Well, this is the place to BLOW YOUR HORN.
Go ahead and .

Calling the DIY-er in You!
You know...that dingy looking thing you picked up from the yard sale which everyone thought was a waste of money?

It now has pride of place in your house because you transformed it.

Oh yes...also that dresser you placed in your child's nursery all those years ago?

You just updated it to suit your now teenaged kids room makeover. Wasn't that really clever of you?

That is right. You have a right to preen about it; brag about it. You deserve to be complimented...so go ahead and share your story and photos here.
Other DIY-ers & their pet how to projects
Please do visit our other diy-ers...encourage them and get inspired by their do it yourself projects!
Drawer to Dollhouse - DIYW Magic Not rated yet
There is no limit to the ideas our minds can come up with, if we just stop to think things through. Did you know that you can use the drawers of a nightstand …
diy home decor wall art Not rated yet
My living room was looking rather dull and without color and I was ready for a change of scene on the walls. But it took me a long time to figure out what …
---
Did you enjoy this article? Was it informative? Tell us in a comment below.
---
Want More Decor?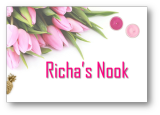 You can sign up for my free bi-monthly e-zine, Richa's Nook.
This is a great resource of ideas, information and a casual fun read to help you relax and unwind.
---
Return from How to Projects to Decorating Ideas Home Page