Free Printable Graduation
Party Invitations
Have a blast...with our free printable Graduation party invitations
---
Your child is graduating! You are to be congratulated.
Graduation is such an important milestone. And just how do you show your appreciation for the all the hard work your son or daughter has put in all these years?
By throwing him/her a party of their life, of course!
---
Achievement
---
There are many free printable party invitations on the Net. All you have to do is download, print, cut and display. You can find some in your college colors too.
I decided to try my hand at it.
And this is what I came up with. I call it the 'Shine On...' Collection.
You will notice one star that is shining brighter and bigger than all others in the universe. And that is the underlying theme of my collection.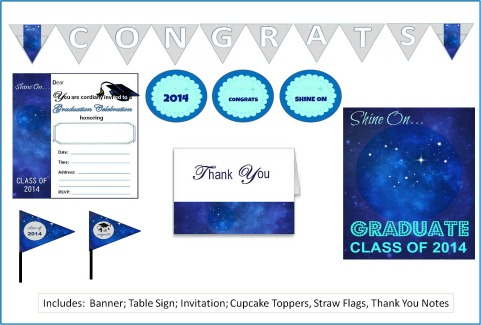 Your child is the star of this moment. And you wish that he would continue to 'Shine On' through out his life. I cannot think of a better way to decorate and celebrate the amazing 'Light of your Life'.
I hope you like it too.
This set of free party printables includes a banner, invitation cards, table placards, thank you notes, cupcake toppers and flags.
You can download them simply by clicking on the link or on the picture. These are for your PERSONAL USE only. Please do not modify, change, redistribute or sell these pictures.
And do tell me what you think of the design as well as the sizes I have used. As I said, this is my maiden attempt at giving you back something unique and of value to show my appreciation of you, my regular reader.
---
Did you enjoy this article? Was it informative? Tell us in a comment below.
---
Want More Decor?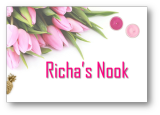 You can sign up for my free bi-monthly e-zine, Richa's Nook.
This is a great resource of ideas, information and a casual fun read to help you relax and unwind.
---
Return from Free Printable Graduation to Party Printables
Return to Decorating Ideas Home Page