Drawer to Dollhouse - DIYW Magic
by Roo Ciambriello
(New Haven)
What a Dollhouse!
There is no limit to the ideas our minds can come up with, if we just stop to think things through.


Did you know that you can use the drawers of a nightstand to create a dollhouse that your daughter will certainly fall in love with?

And there is hardly any construction work required at all. In fact, you could probably take the drawers down to your local Home Depot and let them do all the tough work.

Then bring it home and decorate with glue, decorative papers (gift wraps work too!) and a lot of love.

Let a tiny doll family reside in there while you slowly add other accessories and furniture items.

Roo, over at Semiproper, shows us an element of creativity that you will be hard pressed to top. Head on over to Roo's as she guides you step by step with more pictures and advice offered in her own style.

Do you have an nightstand ready for the yard sale? Get inspired by Roo and work your magic on it.

I will probably never look at nightstands in the same way ever again.

(ps: This article has some affiliate links. Please see our disclosure policy for more.)
Join in and write your own page! It's easy to do. How? Simply click here to return to How-to Project? Have to Share!.
---
Want More Decor?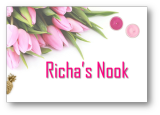 You can sign up for my free bi-monthly e-zine, Richa's Nook.
This is a great resource of ideas, information and a casual fun read to help you relax and unwind.
---