diy home decor wall art
by Richa
(Boston, MA)
my diy wall art
My living room was looking rather dull and without color and I was ready for a change of scene on the walls. But it took me a long time to figure out what it was I wanted.


Although this was in the plans for a long time, I did not want to rush it. I took my time looking at different home decor wall art.

I also started to think about the colors that I wanted there.

My sofa has a golden brown slip cover and the furniture all around is dark. And because we are in a rented apartment, the walls are a very boring white.

If you are an artist, there is no limit to what you can do. But if you are like me and can just cover the basics, this is your answer!

1. Find the inspiration. Search the Net for diy home decor wall art images. Find the one you like.
(I cannot do faces / expressions...so I go for silhouettes instead). They look great and make you feel like an artist :)

2. Decide on the colors. My inspiration was a simple white silhouette on a blue backdrop. But I did not want blue.
So I first decided on the green. But just green and white would be boring, so I decided to color the birds red.
And out of nowhere came the idea of one golden bird to kind-of break up the monotony...and tie in the golds of the sofa slip cover.

3. Note the desired size. This was something I did not do...but now that I know, I will be better prepared in the future.

Here is the end result. I am rather pleased with the way it looks.

Join in and write your own page! It's easy to do. How? Simply click here to return to How-to Project? Have to Share!.
---
Want More Decor?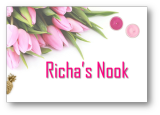 You can sign up for my free bi-monthly e-zine, Richa's Nook.
This is a great resource of ideas, information and a casual fun read to help you relax and unwind.
---