Decor 4 Kids
- Entertaining Kids Room Alerts
Decor 4 Kids - the Kids Room Alerts that get you information that is free, fast and loads of FUN.
---
Custom Search
---
This is where you will find all the free goodies to make your decorating project a little easier.
Decorating kids room is not a job you can accomplish in a day...or even a week (even if you get chosen by Extreme Makeover).
You would want to check and re-check the theme, the quality, the priority and your budget. You would want to look at interesting nursery ideas or teen bedroom decorating ideas.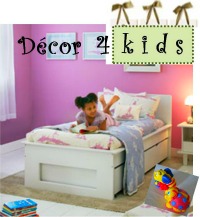 You will be on the look-out for the best deals, the most do-able diy projects, the latest articles on popular trends, and inspiring kid bedrooms. And that is where we, Avis and Zana, come into the picture.
No, we mean, literally. See this picture on the left that says Decor 4 Kids? We are IN the picture. Did you spot us? There down below. The girl in the picture is looking at us. Yup...we are going to be famous!
...
...
...
Hmmm? Oh yeah. Sorry, we were dreaming we were at a red carpet event (our bosses have assured us it is gonna happen someday). But for that YOU need to sign up to receive our e-zine in your inbox.
Zana and I are incomplete charge (oops..typo. I meant in complete charge) of the e-zine from convincing you to subscribe to sending you the monthly issues on time. (I know it's been sadly neglected for some time now.)
It's not such a bad deal. Oops! We mean, it is a great deal. Decor 4 Kids has awesome features such as
Special how-to projects that you can do yourself.


Great deals delivered right to your mailbox.


The latest articles on popular trends; and


'Magazine Moment' rooms of the month, to offer inspiring ideas.
Sign up for kids room alerts, then sit back and Relax!
(Zana whispering, "psst...Avis. You forgot to mention the BONUS.")
What?
Oh yeah! The BONUS. So...as a thank you for subscribing to our e-zine [Decor 4 Kids], we are offering not one but two FREE e-BOOKS.
'Walls with Character' : We love, love, love this book. You know that painting kid bedrooms is the easiest, biggest and cheapest (we enjoy the superlatives, as you might have noticed in para 2 above...wayyy above) way to re-decorate. This book gives you so many incredible paint ideas and inspirations.


'The Super-Duper College Checklist': If your teen is dorm-ward bound this year (or soon), you need to create your checklist of all the things you need to be ready with. Why break your head over it? Simply download our Super-Duper College Checklist...and start hoarding!
More on these books below.
(Zana whispering, "This is where you mention the e-book 'Ideas 4 Dorms', Avis!")
I was just about to do that! Hummph!
Ideas 4 Dorms is a unique book (it really is. See Zana is nodding too.) The book has over 20 inspirational dorm design boards. Our boss did a lot of research and hard work in creating this book. She will be heart-broken if people did not appreciate her efforts. I was asked to delete that. Apparently people don't buy books for that reason.
There are many more reasons to buy this book. In fact, so many that we have dedicated an entire page to it. So I won't go on and on about it here.
(But she really will be heart-broken. See Zana is nodding again!)
To sum up, you need to subscribe to [Decor 4 Kids] and receive kids room alerts, if you are;
>> Parents who want to decorate or re-decorate their kid bedrooms or are looking for exciting nursery ideas.

>> Grand-parents, Aunts and Uncles (and friends) who are searching for unique baby shower gifts.

>> Anyone who is looking to give a special gift for a kid's birthday or any special occasion.

>> All those who are looking for great bargains, deals and special offers on popular bedroom decorating ideas from trusted online stores.

>> Interior Designers, professional and amateur, who crave new decorating ideas and the latest news in the world of kids room decoration.

>> Visitors to our site who would enjoy reading the new pages we keep adding.

>> Readers who wish to receive (for free) the original and invaluable e-books for decorating kids room that we will be publishing from time to time.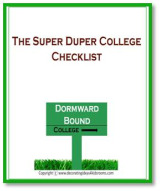 Are you headed to college this Fall?
Then you CANNOT afford to miss out on The Super Duper College Checklist. A complete list of all obvious and many not-so-obvious essentials you will need to pick up before you head out your front door.
From clothes and computer to quarters and duct tape; we have you covered. Get this list, completely FREE, and look forward to a great college experience.
Also BUY our book Ideas 4 Dorms for some unique dorm designs that are very do-able and won't tax your budget. Learn more about Ideas 4 Dorms.
Sign up for kids room alerts and receive the Checklist for FREE.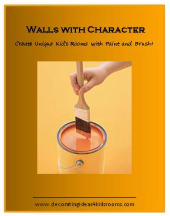 Have you been looking for innovative ways to spruce up the nursery or kids room?
Our FREE e-book, 'Walls with Character' can guide you; filled with awesome paint ideas to create unique kid's rooms with just a paint can and brush. The book is filled with pictures of rooms done with different styles of wall paint designs. Get inspired to fashion your own unique ideas for a room your kid's will love and the neighbor's will envy.
Sign up for the kids room alerts and receive this book for FREE.

---
Return from Kids Room Alerts to Decorating Ideas Home Page